Kia intends to ease mainstream car customers into plugging in while still filling up at petrol stations between charges with the Niro Plug-In Hybrid Electric Vehicle (PHEV), while also satisfying an insatiable need for utility vehicles. The Niro PHEV is nearly identical to its hybrid sister, with the exception of exterior and interior badging and a larger battery pack. The battery may be charged from an external power source and provides electric-only power for up to 26 kilometers. The PHEV Niro still earns the hybrid version's impressive 46mpg after electric-only power is expended.
The Niro's easy infotainment system, comprehensive (and standard) driver assistance, and Kia's 10-year/100,000-mile standard warranty sweeten the deal for those eager to go green. However, while the Niro PHEV has the rough aesthetics, high driving position, and spacious cabin of a CUV, the luggage size is modest compared to other crossovers, and all-wheel drive is not available.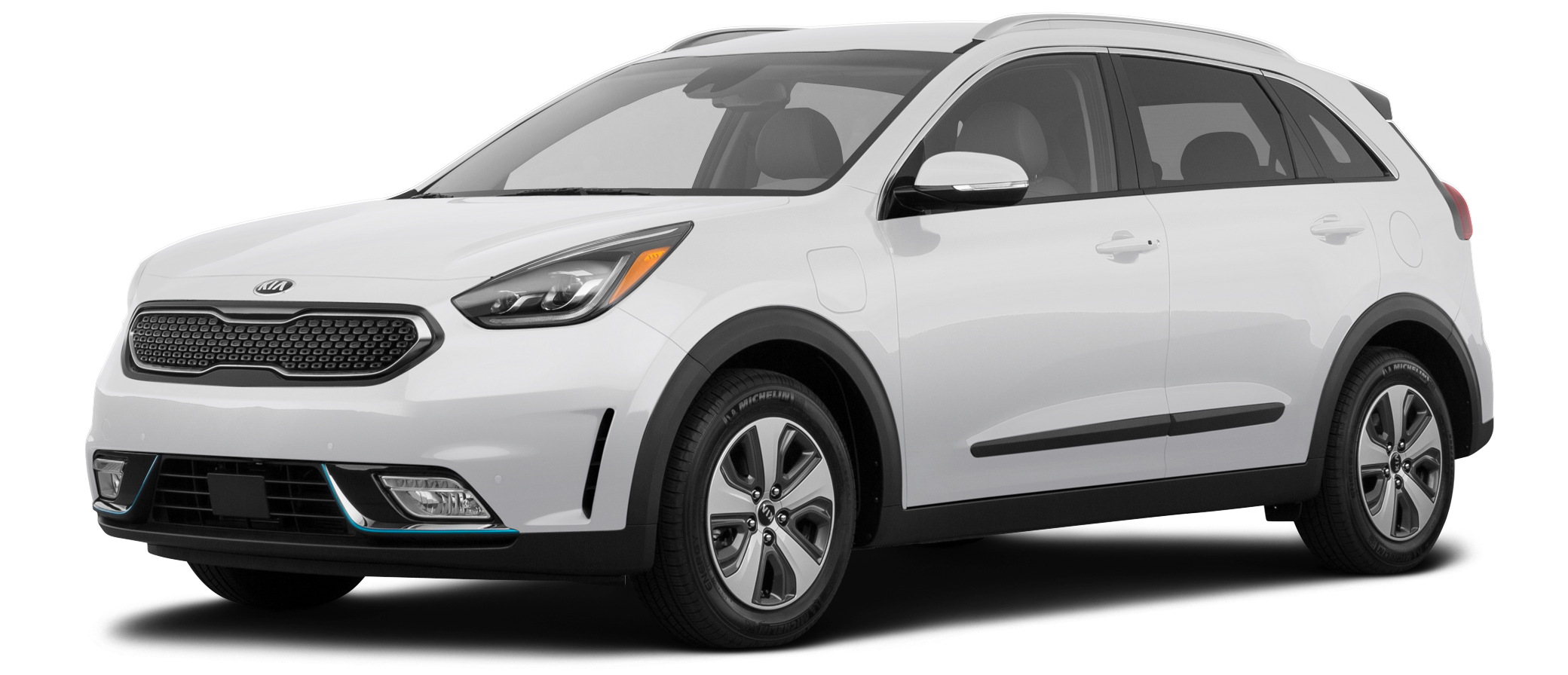 PROS
Connectivity and an easy-to-use infotainment system.
Standard features are included in the base model.
Handling is similar to that of a car.

CONS
AWD isn't an option.
When compared to comparable crossovers, it lacks cargo space.
Acceleration is slow.
Design and Pricing
The 2019 Kia Niro Plug-In Hybrid comes in three trim levels: LX, EX, and EX Premium, each with a 1.6-liter 4-cylinder gasoline engine producing 104 horsepower and a 60-horsepower electric motor. The hybrid-electric powertrain generates 139 horsepower when combined. A six-speed dual-clutch automatic transmission sends power to the front wheels.
A included 120-volt cable can charge the Niro PHEV's lithium-ion battery, which takes less than 9 hours to reach full capacity. The battery may be charged in roughly 2.5 hours using a Level-2 240-volt home charger or commercial charging station. Regenerative braking also charges the battery incrementally while driving.
The base level LX we tried starts at $27,900, with carpeted floor mats being the only option for $135. This pushed the total sticker price to $28,975, which included a $940 inland freight and handling charge.
16-inch alloy wheels, a matte black grille with satin-chrome trim, black fender and rocker cladding, a rear spoiler, body-colored and powered mirrors, roof rails, and special blue highlights are among the exterior characteristics of the LX.
Cloth-trimmed 4-way power front seats, leather-wrapped steering wheel and shift knob, 60/40 split-folding rear seat with center armrest, dual-zone automatic temperature control with driver-only mode, keyless entry and starting, and a tilt and telescopic steering wheel are all standard inside features.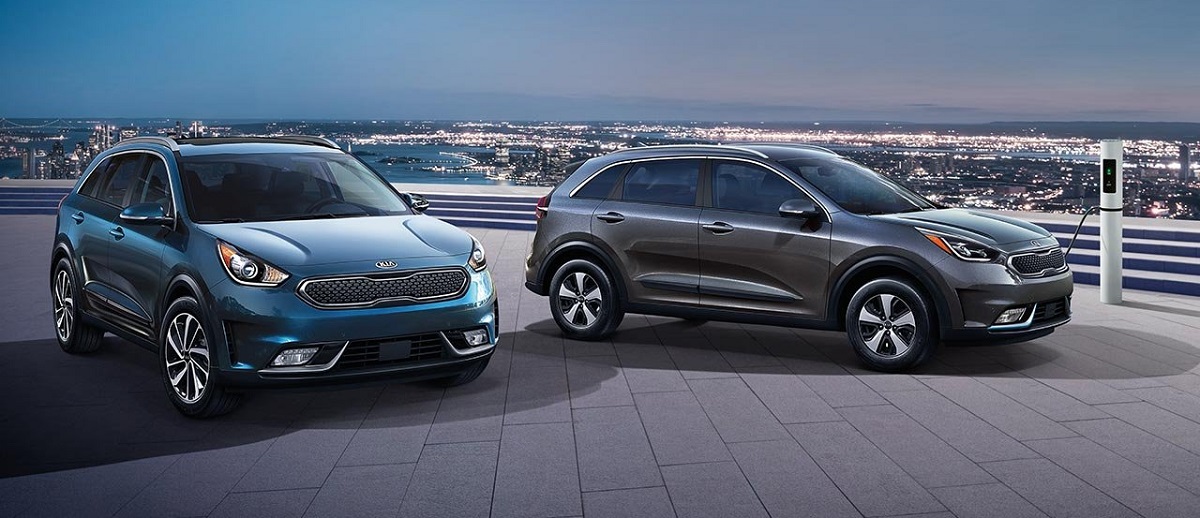 A 7-inch touch screen, Kia's Uvo infotainment system, Android Auto and Apple CarPlay connection, two USB ports, and a four-speaker sound system with satellite radio are all standard tech features. Driver assistance features include a rearview camera, front collision warning and mitigation with automated emergency braking, lane keeping assist, and adaptive cruise control.
The EX adds xenon headlights, rear air vents, and a USB port to the base model, as well as leather and cloth upholstery, a 10-way power driver's seat, heated front seats, a cargo cover, an auto-dimming rearview mirror, lane-change assist, and blind-spot monitoring with rear cross-traffic alert.
LED headlights, leather-trimmed seats, driver seat memory, a heated steering wheel, ventilated front seats, a larger instrument panel display, an 8-inch infotainment touch screen with navigation, a Harman Kardon 8-speaker sound system, wireless phone charging, a 110-volt power outlet, and front and rear parking sensors are all included in the EX Premium.
Unlike the Kia Optima and Stinger, the Niro's appearance is quite basic, though it does include the famous Kia grille and wraparound headlights. Hard plastics and a dismal gray color scheme characterize the inside.
The Niro has enough of passenger headroom and legroom in both rows, but it lacks the storage space of comparable crossovers or even hatchbacks, and the rear seats do not fold flat.
Connectivity and the Infotainment Interface
The Niro has the same basic entertainment system as other Kia vehicles we've examined, such as the Optima PHEV. Despite the fact that Kia has been using its 8-inch touch-screen interface for years, the Niro's excellent visuals, intuitive menu layout, and customisable My Menu feature that offers rapid access to preferred tasks make it a keeper.
Uvo eServices from Kia are similarly simple and free for the first five years of ownership. Roadside assistance, vehicle diagnostics, 911 dialing, and other Uvo eServices are available, and a Uvo smartphone app may be used to control features like door lock/unlock, vehicle location, geofencing, and speed-limit alerts.
Uvo eco remote app functions include monitoring charging status, setting charge times, and discovering charging station locations in the Kia Niro PHEV. The 8-inch in-dash touch screen may be used to establish charging times and monitor charging as well as provide charging station location and information.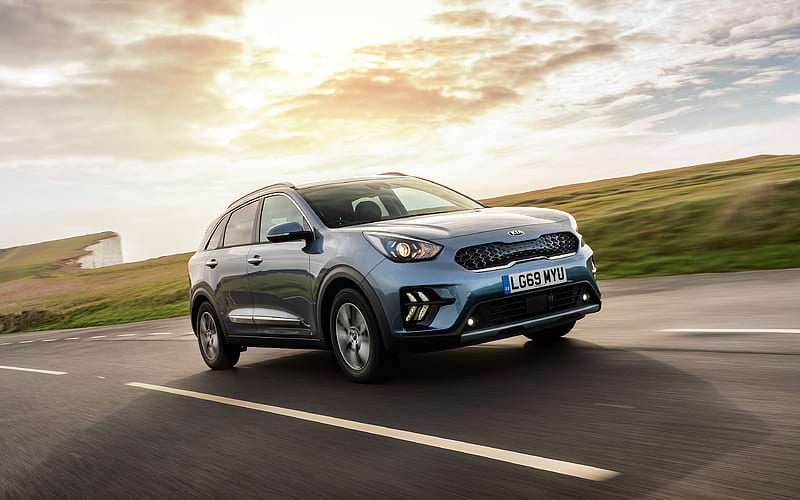 Apple CarPlay and Android Auto are standard, and the model we tested also includes the SiriusXM Travel Link service, which delivers real-time weather, sports, stock prices, and other information. An LED on the instrument panel's left side indicates whether power is being drawn from the gasoline engine or the battery, as well as monitoring driving behavior, while another display in the middle allows for simple adjustments to driver assist systems.
Conclusions and Performance
When forced to accelerate on quicker highways, the Niro has enough oomph to navigate through congested city traffic, but it feels sluggish. Even in EV mode, the powertrain lacks the near seamlessness we saw in the Optima PHEV, leading the engine to engage frequently. Except when braking hard, the transition from regeneration to mechanical brakes is almost undetectable.
Despite its crossover size, the Niro drives like a tall hatchback, so it's grounded and confident in corners, if not very sporty. The Niro is marketed as a crossover, yet it lacks the ground clearance of a true CUV and does not provide all-wheel drive.
However, if you're looking for a PHEV crossover or SUV, your options are limited. When comparing the Kia Niro to other non-luxury vehicles, the Mitsubishi Outlander PHEV, which starts at more over $35,000, is the sole non-luxury alternative. PHEV crossovers and SUVs from BMW, Mercedes-Benz, and Volvo are all substantially more expensive. The 2019 Kia Niro is a good choice if you want a PHEV crossover that can run on battery power for short trips, has a base model with a lot of standard amenities, and you don't require all-wheel drive or a lot of cargo space.
---
You may also like
KeWiki is an affiliate-based website that tests and reviews the best tech, appliances, gear, and more. You can trust our veteran reviewers and experts to find the best stuff just for you.
KeWiki strives to be probably the most trusted product suggestion and service on the web. We obsessively test and report on thousands of things annually to suggest one of the best of all the things. We aim to save lots of you time and get rid of the stress of buying, whether or not you're on the lookout for on a regular basis gear or items for family members. We work with complete editorial independence. Meaning nothing seems on the location as a suggestion until our writers and editors have deemed it one of the best by our rigorous reporting and testing.