PROS
Excellent performance
Exceptional fuel efficiency
There are a lot of typical features.
Design that is appealing
CONS
Wireless isn't available. On higher trims, Android Auto or CarPlay are available.
Interiors with hard plastic are inferior.
2021 HYUNDAI ELANTRA HYBRID SPECS
| | |
| --- | --- |
| Body Type | Sedan |
| Drivetrain | Front-Wheel-Drive |
| Seating Capacity | 5 |
| Fuel Type | Hybrid |
| Engine | 1.6-liter 4-cylinder engine electric motor |
| Transmission | 6-speed automatic |
Hyundai has been on a hybrid rampage in recent years, adding hybrid powertrains to the Sonata sedan and Tucson and Santa Fe crossovers, as well as offering the Ioniq in a hybrid, plug-in hybrid, and battery-electric trifecta. The all-new Hyundai Elantra receives a hybrid model for 2021, competing against more established small sedans like the Honda Insight and Toyota Corolla hybrids. The Elantra Hybrid is a powerful challenger to these vehicles, and our new Editors' Choice winner, with attractive aesthetics, an upscale interior, and tech like wireless Android Auto and AppleCarPlay, as well as an NFC smartphone key.
Elantra Hybrid Pricing and Design in 2021
The Hyundai Elantra Hybrid is available in two trim levels for 2021: SEL and Limited, both of which have a 1.6-liter 4-cylinder engine and an electric motor powered by a 1.32-kWh lithium-ion battery. The hybrid powertrain produces 139 horsepower, which is somewhat higher than the Corolla Hybrid but lower than the Honda Insight Hybrid. The front wheels are driven by a 6-speed dual-clutch automatic transmission.
The SEL trim level begins at $23,550 and includes 16-inch alloy wheels, halogen headlights, LED daytime running lights, partly LED taillights, heated and body-colored mirrors, a chrome grille, and black side door moldings as standard external features. Heated fabric front seats, a six-way power driver and four-way power front passenger seat, a tilt and telescopic steering wheel, and dual-zone automatic temperature control are included in the cabin. A hands-free trunk release, Qi smartphone charging, Bluetooth for hands-free phone use and wireless streaming, the Blue Link telematics system, and Hyundai's Digital Key, which allows unlocking, starting, and driving with a smartphone or NFC card, are among the SEL's standard tech features.
An 8-inch touch screen with a rearview camera, speech recognition, wireless Android Auto and Apple CarPlay, twin USB ports (one for charging, one for connecting a smartphone), and a four-speaker audio system with AM/FM HD Radio are included in the basic infotainment system. Cruise control, forward collision warning with pedestrian recognition and automated emergency braking, lane keeping assist, blind spot detection with rear cross traffic alert, and auto high lights are all standard driver assistance features.
The Limited trim we tested adds 17-inch wheels, LED headlights and taillights, a dark chrome grille, chrome side body moldings, integrated side mirror turn signals, a sunroof, leather shift knob and seating, driver seat lumbar support and memory functions, and ventilated front seats to the $28,100 base price. Dual 10.25-inch digital instrument and infotainment screens, navigation, an eight-speaker Bose sound system with SiriusXM satellite radio, dynamic voice recognition, front and rear parking sensors, lane centering, adaptive cruise control, forward collision warning with cyclist detection, and safe exit warning that warns passengers when a vehicle approaches from behind are among the features. The ultimate sticker price after adding the premium package is $30,200.
The 2017 Elantra has a flowing, four-door coupe aspect thanks to Hyundai's "parametric dynamics" external design. The Elantra Hybrid is definitely the most appealing vehicle in the group, thanks to its stylish jewel pattern grille with integrated turn signals and sharply creased sheet metal.
Despite the dramatically slanted roof line, the inside is as attractive and capacious, even for taller rear seat occupants. We like the new clean dashboard arrangement and how the 10.25-inch instrument panel and infotainment panels are combined under one piece of glass for a streamlined appearance. However, the usage of hard plastic in several areas detracts from the overall feel of the inside.
Elantra Connectivity and Hybrid Interface
Many automakers try to squeeze too much information into ever-larger screens. The dual 10.25-inch screens in the Elantra Hybrid make effective use of their large size without being overbearing, giving the dash a minimalist air.
The infotainment display has an intuitive layout with various panels that can be swiped for access, just like a smartphone, and the screen icons can be rearranged to your liking. The enlarged instrument cluster is an example of less is more, with information presented in a simple, basic manner, with flashy animation tossed in when drive modes are altered.
Hyundai, like most automakers, has largely delegated in-car connectivity to Android Auto and Apple CarPlay. While Hyundai properly claims to be one of the first non-luxury automakers to provide wireless Android Auto and CarPlay, this function is only available on the lower-priced SEL trim, while the higher-end Limited requires a cable to connect to your phone.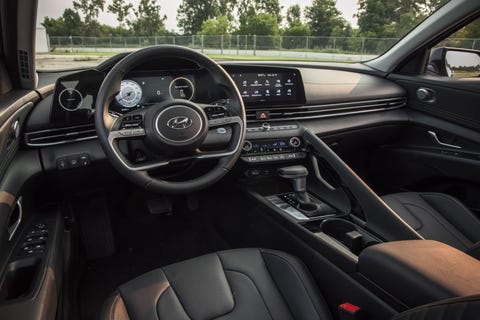 The Limited comes equipped with linked navigation, which includes three years of map updates and cloud-based real-time routing updates. Hyundai's Blue Link system includes standard telematics features including automatic crash notification and emergency roadside assistance, as well as a smartphone app that allows for remote door locking/unlocking, climate control, and finding the vehicle by sounding the horn and flashing the lights.
Performance and Fuel Economy of the Hyundai Elantra Hybrid
While driving through LA's congested streets and freeways, as well as its steep canyon routes, the 2021 Hyundai Elantra Hybrid moved fast and effortlessly. The Elantra Hybrid handled everything with impressive—if not rousing—performance, whether it was racing up to join onto the freeway, getting around slow-moving automobiles on the curving west end of Sunset Boulevard, or climbing the steep canyons above Malibu.
The six-speed transmission shifts smoothly and maintains gear transitions for as long as necessary. The Elantra seems more torquey than the Toyota Corolla Hybrid and Honda Insight Hybrid, which both have continuously variable transmissions.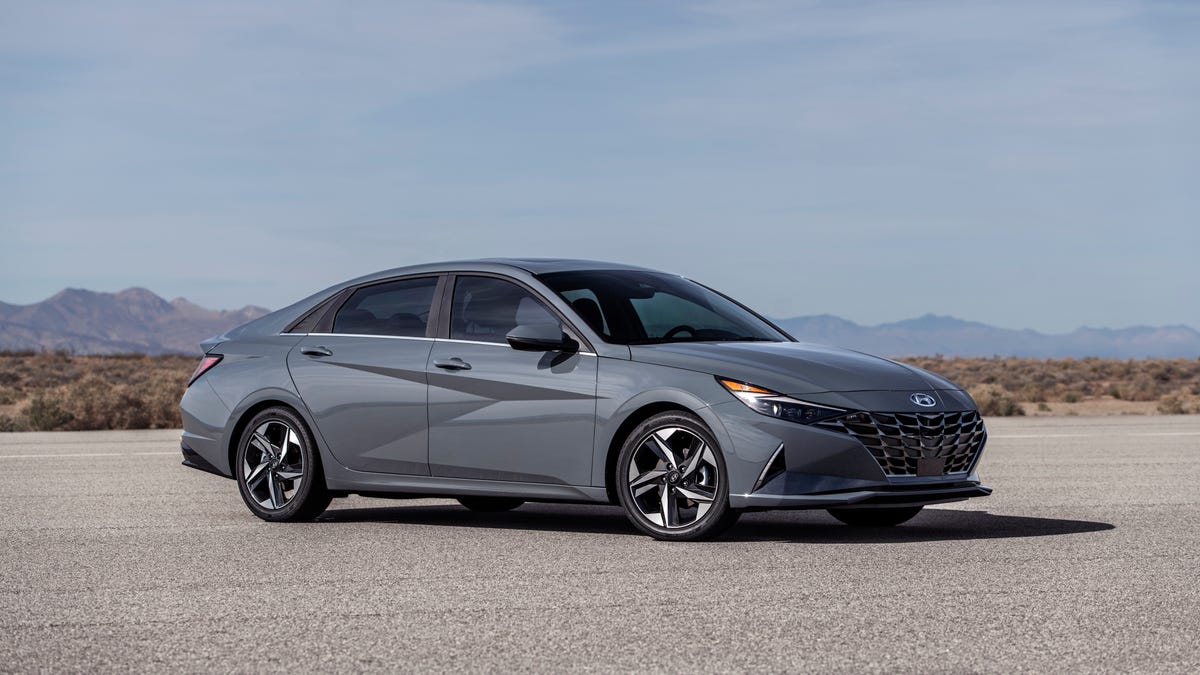 Over bumpy pavement, the Elantra Hybrid's rear multi-link suspension makes it feel more grounded and smooth. We had the opportunity to compare and contrast the normal Elantra and the hybrid, and the hybrid was substantially more controlled, with less body roll.
Hyundai states that the SEL gets 31/41/35 mpg city/highway/combined, and the Limited gets 31/41/35 mpg city/highway/combined. The SEL outperforms the Corolla Hybrid and Insight in terms of fuel economy, while the Limited falls short of both. However, according to the car's computer, we earned over 49mpg when test driving the Limited with more concern for assessing the car's giddy-up than fuel economy.
A Compact Sedan That Wins
The top-of-the-line 2020 Honda Insight Touring costs a little less than the 2021 Hyundai Elantra Hybrid Limited, but it clearly outperforms it in terms of performance. While the Elantra Hybrid Limited is more expensive than the 2020 Toyota Corolla Hybrid (which is only available in a single LE model), it is significantly superior in terms of appearance, performance, features, and interior comfort. That's enough to make it the segment's new Editors' Choice winner.
---
You may also like
KeWiki is an affiliate-based website that tests and reviews the best tech, appliances, gear, and more. You can trust our veteran reviewers and experts to find the best stuff just for you.
KeWiki strives to be probably the most trusted product suggestion and service on the web. We obsessively test and report on thousands of things annually to suggest one of the best of all the things. We aim to save lots of you time and get rid of the stress of buying, whether or not you're on the lookout for on a regular basis gear or items for family members. We work with complete editorial independence. Meaning nothing seems on the location as a suggestion until our writers and editors have deemed it one of the best by our rigorous reporting and testing.