VW's first crossover is close to electrifying
PROS
High-end technology
A relaxing and serene ride
Interior with lots of light

CONS
There isn't enough EV zing to it.
Limited Electric America charging stations have an undistinguished design.
2021 VOLKSWAGEN ID.4 SPECS
| | |
| --- | --- |
| Body Type | SUV |
| Drivetrain | Rear-Wheel-Drive |
| Seating Capacity | 5 |
| Fuel Type | Electric |
| Engine | Electric Motor |
| Transmission | 1-speed direct drive |
Volkswagen's new all-electric crossover is pure vanilla, punctuating its mainstream ambitions as electric vehicle adoption reaches an inflection point in the market. The 2021 VW ID.4 takes aim at Honda and Toyota's gas-guzzling competitors, vying for a spot in a crowded and competitive class of ICE (internal combustion engine) relatives. And it generally succeeds thanks to cutting-edge technology, an open interior, and a smooth ride, making it simple to recommend—as long as you don't count on charging up with Electrify America anytime soon.
Trims and Pricing (ID.4)
The 2021 Volkswagen ID.4 all-electric compact SUV is based on VW's new MEB modular EV platform, with an electric motor driving the rear axle (RWD) and producing 201 horsepower and 229 lb-ft of immediate torque. It has a 250-mile range thanks to its 82kWh battery pack stowed under the floor, and charging from empty takes 7.5 hours on a 220V charger, while a 125kW DC configuration achieves 80 percent in just under 40 minutes. The ID.4 comes with a federal tax credit of up to $7,500 and three years of free fast charging through VW's sibling firm, Electrify America.
Only two of the ID.4's three trims are now available on the market. The 1st Edition, which is already sold out, was the car we tested.
The Pro trim comes standard with 19-inch aluminum alloy wheels, LED headlights with rain-sensing wipers and tail lights, keyless entry with illuminated flush door handles, a heated windshield (on the all-wheel-drive option), and door mirrors and washer nozzles, starting at $39,995 for RWD and $43,675 for AWD. Dual-zone automatic climate control, heated leather-wrapped steering wheel with haptic feedback, cloth power seats with front heating and six-way power recline, a digital instrument cluster and a 10-inch center display, Bluetooth and SiriusXM satellite radio, wireless app connection, wireless charging, and VW Car-Net services via Wi-Fi are among the standard interior features.
Emergency Assistance and Automatic Crash Notification are included with Car-Net Safe & Secure, which costs $159 per year. By adding the vehicle to your existing T-Mobile or Verizon data plan, passengers can get 4G LTE connectivity with up to four compatible connected devices at the same time. Car-Net Remote Access EV allows you to interact with your vehicle from afar via a mobile app, and it's free for the first five years from the date of purchase. Remote battery stop/start charging, climate control, charging station search, and off-street parking availability are just a few of the features.
The IQ.DRIVE driving assistance suite, which features forward collision warning and automated emergency braking with pedestrian monitoring, blind spot monitoring, rear traffic alerts, adaptive cruise control, lane assist, travel assist, and emergency help, will make its debut in the 2021 ID.4. Dynamic road sign display, park assist, and dynamic high beam control are also incorporated. VW's ID.Light, an intuitive element that promotes communication within the vehicle, runs across the soft foam skin headliner.
The Pro S grade is available with RWD for $44,495 or AWD for $48,175. Adaptive LED headlights, an illuminated lightline and Volkswagen emblem, a panoramic fixed glass roof, power-folding door mirrors with puddle lamps, and a motorized tailgate are among the optional options. Leatherette seating surfaces with front 12-way power and memory, a 12-inch center display, better ambient lighting, and a changeable trunk floor are among the interior enhancements.
The Gradient Package (available on the Pro S variant for $1,500) was added to the 1st Edition we drove, which features 20-inch machined alloy wheels with all-season tires, a black roof, silver anodized roof rails, silver roof highlights and C-pillar, and silver front and rear bumper elements. The 1st Edition features a white steering wheel and column, a radio bezel, a door armrest module, and a steering wheel clip, as well as unique elements like accelerator and brake pedals with Play and Pause emblems reminiscent of the ID.BUZZ idea. A 1st Edition fender insignia, black mirror caps, and a tow hitch with a towing capacity of 2,200 lbs are among the exterior features. The sticker price was $45,190, which included a $1,195 destination fee.
ID.4 Connectivity and Infotainment
The ID.4 is a traditional and uncomplicated design that targets the most popular gas-guzzling compact SUVs. When it comes to technology, Volkswagen introduced 30-color upgraded ambient inside lighting with preset Moods, as well as a slider bar to modify the touch infotainment system, which deviates from the vanilla external packaging. Swiping your hand in front of the screen will move menus. On the sloping surface below the monitor are sliders for volume and temperature control.
A light strip below the windshield streams colorful and intuitive lighting effects to support you in situations with visual and acoustic notifications tied to driver-assistance and navigation systems, charge status, braking prompts, and incoming phone calls, and a light strip below the windshield streams colorful and intuitive lighting effects to support you in situations with visual and acoustic notifications tied to driver-assistance and navigation systems, charge status, braking prompts, and incoming phone calls. It uses a variety of light pulses to indicate ready to drive, navigation system turn instructions, brake prompts, and incoming calls. It indicates that it is listening when you use voice instructions. The ID. Light reveals the current charge level when the ID.4 is plugged in to charge.
With no physical buttons and instead depending on a touch-screen menu and voice control, the interface takes some getting accustomed to. Touch-sensitive sliders control the climate, sunshade, and volume, while haptic buttons navigate through menus.
The ID.4 is being driven.
The VW ID.4 provides a comfortable ride with dependable handling. What sticks out are the eccentric design characteristics, rapid torque upon acceleration, and regenerative one-pedaling, which are all lacking but expected from all-electric vehicles these days. The ID.4 instead has the appearance and feel of a gas-powered car. When you let go of the pedal, it coasts like an automated internal combustion engine, rather than the regenerative draw of an EV.
Regardless, the ID.4 proved to be an excellent choice for a road trip from Portland to Seattle. The cabin was tranquil at highway speeds, and the powertrain stayed quiet, even while passing. When driving around trucks on I-5, though, the ID.4 seemed sluggish. While it was faster than our conventional Honda CR-V, it was well behind EV competitors in its class, such as the Ford Mustang Mach-E. Later this year, Volkswagen plans to release a 300-horsepower ID.4.
The ID.4 has four driving modes: Eco, Comfort, Sport, and Custom, with Comfort and Sport options on the central display for more dynamic driving. You can select a heavier quantity of regeneration by using the B (Brake) button. We switched the gear selection switch from D to B on a regular basis, but we couldn't feel any meaningful pull from the system, and one-pedal driving wasn't a possibility.
The EPA claims a total driving range of 250 miles; on our roadtrip, we got roughly 190 miles. But here's where our biggest gripe is: "Electrify America." Electrify America (EA), a company founded by Volkswagen as part of the Dieselgate settlement, recently revealed plans to increase the number of electric vehicle fast charging stations in the United States over the next four years. By the end of this year, it plans to install 800 charging stations with 3,500 chargers, and 1,800 stations with around 10,000 charges by the end of 2025.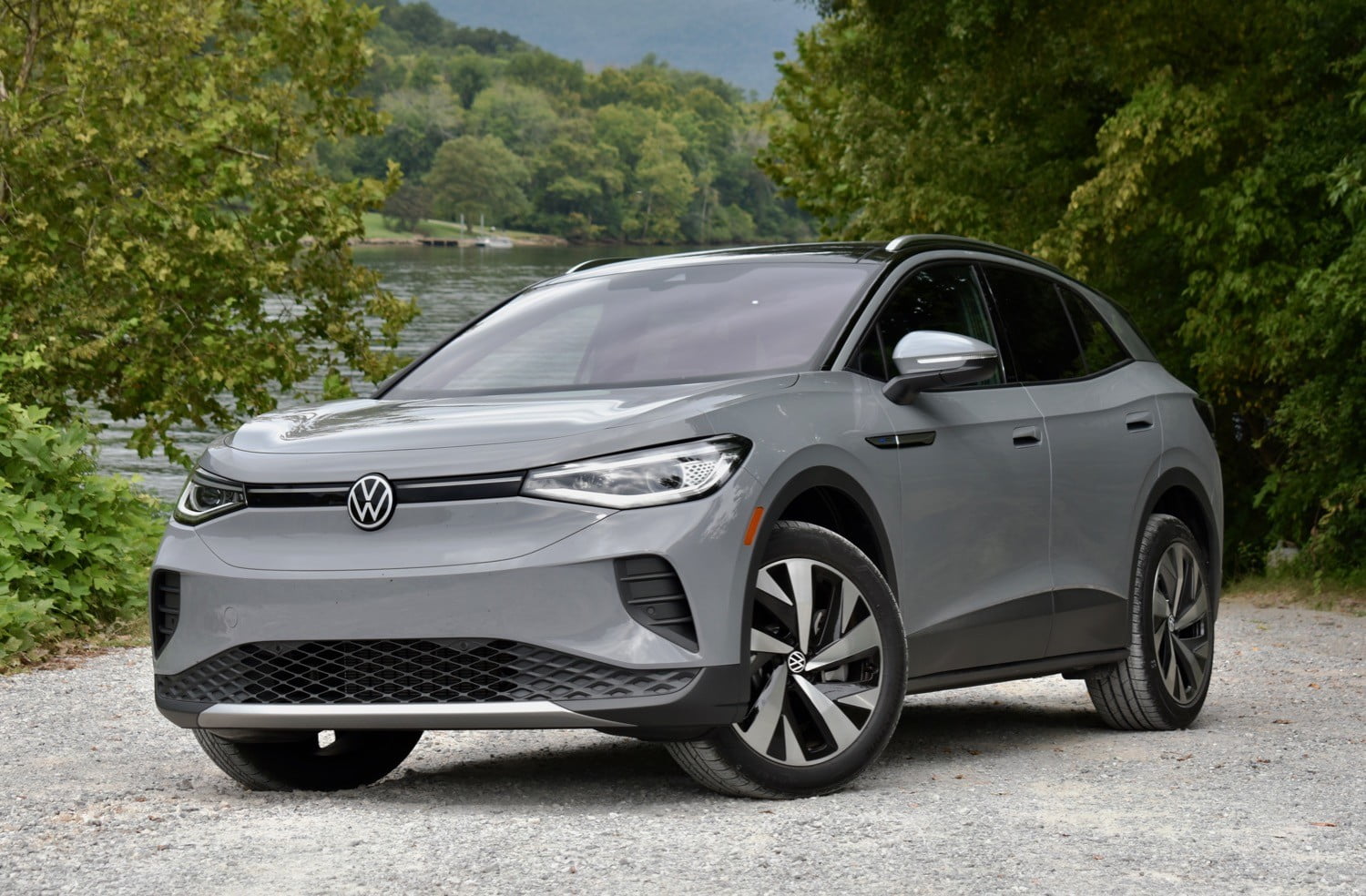 This type of infrastructure development is critical for EV widespread acceptance, as well as a boon for individuals who wish to take advantage of the free three-year charging bonus. Unfortunately, we were unable to use our free card while searching for an EA station that was not offline. The customer service euphemisms we received concerning the status of the malfunctioning equipment were even more aggravating. When we contacted from a station, we were told how long it had been offline, but we didn't get any information about what it meant or when it would be back online. We immediately realized after a few calls that if the station was down for more than 24 hours, we should switch to another. We dropped our free EA card and sought out the much more reliable Chargepoint network after nearly running out of juice while searching many stations for a working unit.
All ID.4 models come with a charging cord that may be used both at home and in public. The ID.4 can charge to full in as little as seven and a half hours at home thanks to the 11kW onboard charger.
A Good Start
Whether you're thinking about going electric or not, anyone looking for a compact SUV should take a test drive in the ID.4. VW is hoping that its first all-electric crossover in the US will mix in with popular competitors like the Honda CR-V, Mazda XZ-5, Subaru Forester, and Toyota Rav4 and that the gas-free and greenhouse-free benefits would win over a substantial section of the class. And we tend to agree, yet as our Electrify America fiasco demonstrated, the industry won't be able to achieve mainstream EV adoption until the infrastructure problem is addressed. Because of this, and because the ride will benefit from the 300-horsepower variant due later this year, we can't give this debut ID.4 our Editors' Choice award.
---
You may also like
KeWiki is an affiliate-based website that tests and reviews the best tech, appliances, gear, and more. You can trust our veteran reviewers and experts to find the best stuff just for you.
KeWiki strives to be probably the most trusted product suggestion and service on the web. We obsessively test and report on thousands of things annually to suggest one of the best of all the things. We aim to save lots of you time and get rid of the stress of buying, whether or not you're on the lookout for on a regular basis gear or items for family members. We work with complete editorial independence. Meaning nothing seems on the location as a suggestion until our writers and editors have deemed it one of the best by our rigorous reporting and testing.