When the weather starts to warm up and get more amicable, it's challenging to stay in the workplace. That cubicle appears to be a little smaller, the fluorescent lighting a little more energy-draining, and the uncontrolled air conditioning a little colder (and not in a good way).
Even if you work from home, the desire to get away from your desk and enjoy the outdoors persists. The good news is that you most likely have the ability to sever the cords that bind you to your chair. Here are some of our best recommendations for working outside while working from home.
WHAT ARE THE BENEFITS OF WORKING OUTSIDE?
We all know how much more enjoyable your day is when you are not cooped up. On the other hand, working outside has a slew of real health advantages. It has been proved that being outside reduces stress and lowers blood pressure. One of the reasons the 2021 Colors of the Year are all-natural, earthy tones is this. They are calming to us. Working outside also exposes you to natural sunlight, which can help you get enough vitamin D while also reducing stress.
Finally, it can give beneficial diversions. You may need to put your nose to the grindstone to reach a deadline. However, you should occasionally look up and take a deep breath. Working outside allows you to gaze at the sky, enjoy the soft wind on your skin, listen to the chirping birds, and refresh your thoughts in the process. You might discover that these "distractions" actually help you focus in the long run.
WHERE CAN I GET RID OF THE SUN GLARE WHILE WORKING OUTSIDE?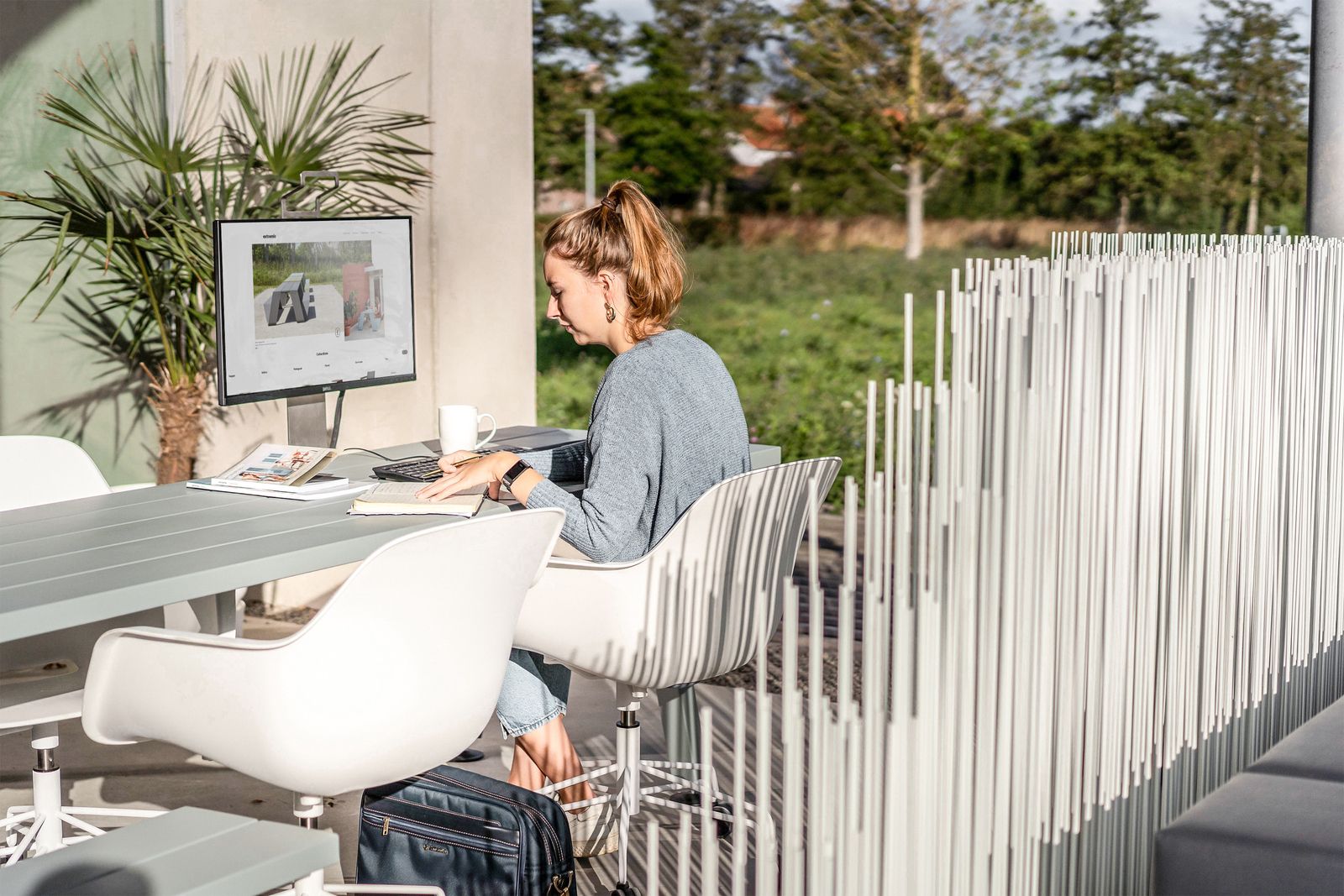 Working outside has many advantages, including sunshine and warmth, but direct sunlight can cause issues. You're more prone to make embarrassing typos if you're fighting glare on your computer screen, and you can also feel more eyestrain and headaches. Both you and your laptop can overheat in the sun, so take measures.
Setting up your workstation in a shady area, such as under a tree or a building overhang, is a natural technique to avoid sun glare. You can also hang porch drapes or a patio umbrella. Even if you're not filling in that spreadsheet, you'll probably appreciate them. What a bonus!
If seeing your computer screen is still a challenge, you might turn to technology for assistance. An anti-glare screen protector or a laptop dome (which resembles a small camping tent for your computer) are both excellent options. If you include a laptop cooling pad, your gadgets will reward you by extending the life of their batteries.
Always remember to retain your cool. Working outside won't be as enjoyable if you're too hot or have a sunburn. Wear a hat with a brim, wear sunscreen generously and frequently, have a portable fan handy, and drink plenty of water.
HOW CAN I IMPROVE THE COMFORT OF MY OUTDOOR SEATING?
Uncomfortable seating may be a tremendous pain in the neck, back, and shoulders, just as too much sun can destroy what seemed like a fine idea. This could be an excellent opportunity to update a larger patio table and chairs or invest in more comfy outdoor furnishings. If purchasing new patio furniture is out of the question, consider replacing the cushions, including an outdoor lumbar support pillow.
Even if you don't have enough space for a large table, you're still in luck. A balcony workstation that hooks to a railing is small enough for even the smallest porches yet large enough to accommodate your laptop. A lap desk is another option. It's not as permanent, but it's just as comforting when checking things off your to-do list.
Do you have a tall pub table or an outdoor countertop kitchen? These surfaces can also be used to create an excellent standing desk.
WHERE CAN I GET MORE POWER AND WIFI WHEN I'M OUTSIDE?
A trip in the woods without your phone can help you detach and recharge your batteries. However, when working remotely outdoors, you'll need something to keep your gadgets charged and make sure your internet connection is strong enough to conduct those Zoom calls.
A simple extension cord or surge protector may be all you need to address your power problems. When organizing an outdoor party, you might also use a portable power station, which will not only keep your laptop and phone charged but will also power speakers, lights, and your guests' phones.
You may need anything to improve your internet signal depending on where your router is in the house and how many obstacles are between it and the patio. It's possible to use a WiFi extender or a mesh-networking system. When everyone is doing homework in their rooms, gaming in the basement, and watching TikTok on the couch simultaneously, the entire family would appreciate this.
HOW CAN I MINIMIZE NOISE DISTURBANCES WHILE WORKING OUTSIDE?
Although we previously stated that working outside might provide beneficial distractions, not all noises are equal. If you live near a busy road, you may wish to turn off the traffic noise. You don't want your employer to hear the barking dog next door if you're on the phone.
One option is to use noise-canceling headphones or earbuds. If you're only attempting to drown out annoying sounds for your advantage, a portable Bluetooth speaker might work. Invest in good headphones with a built-in microphone for all those calls and video conferences. We can't promise they'll make virtual meetings more enjoyable, but they'll be more bearable, and you'll appear more professional if you're not yelling over background noise or sounding like you're driving through a tunnel.
HOW DO I MOVE MY WFH STATION OUTDOORS IN THE EASIEST MANNER?
Working from your home office/guest room is not the same as working outside. You'll need a convenient and straightforward way to get your supplies in and out each session because you can't just shut the door when you're done. You'll need your laptop, phone, chargers, notes, pens, snacks, and water, as well as your floppy brimmed hat, depending on your responsibilities and how long you expect to be outside… Purchase a laptop bag or a backpack. Just like you would if you were going to the office, pack it at the end of each day. You'll be less likely to forget things, make fewer trips in and out, and be ready to work first thing in the morning, after coffee, or as a second option.
Repurposing your bar cart or the ever-popular IKEA Raskog cart is another option. Fill it with all of your materials, including your new lumbar support pillow, and roll your new desk caddy wherever you need it.
Install a keyless lock as the last step. How might an intelligent lock or electronic deadbolt assist you in smoothly transitioning your WFH station? Consider what would happen if you rolled out your bar/office cart, worked hard for a few hours, and then needed to use the lavatory, but the door was shut behind you, and you didn't have a key. Enter your access code and voilà! With a Schlage smart or electronic lock. Even when you aren't locked out, the house is still secure. Working outside isn't the only benefit of this feature. It's also useful for gardening, entertaining visitors, grilling out with the family, and playing in the yard with the dog.
For Step-by-step instructions on how to fix Wi-fi problems, you can check out this great resource.
---
You may also like