House of the Dragon struggled at times in its early episodes, and it frequently seemed like a project that owed its existence to HBO's hunger for a new hit rather than an understanding of what made Game of Thrones compelling in the first place. This was especially true when compared to later episodes of the show. But in the end of its first season, House of the Dragon demonstrated that it is a worthy successor to Game of Thrones and something similar to a dragon egg: an unexpected gift that required time, heat, and just the right type of intensity to become genuinely amazing.

When it first premiered back in 2011, Game of Thrones had the luxuries of time, space, and novelty working in its favor, and it introduced a new audience to the Song of Ice and Fire that had been playing in George R.R. Martin's mind for the past three decades. This was a major turning point for the show. Game of Thrones focused on gradually revealing more and more of its characters' interior selves with a measured slowness that made it easy to empathize with them — especially as the shape of Westeros' politics became clear — despite the fact that it took some time for its impact to become clear. Despite this, the show focused on gradually revealing more and more of its characters' interior selves. Even though the series had already lost a lot of its luster by that point, "Game of Thrones" managed to turn its cast of incestuous, murderous, and traitorous child defenestrators into a group of people audiences loved and wanted to see survive in the great war against the frozen dead. This was accomplished by doing the following:
There was no way that House of the Dragon could have built its heroes and villains in the exact same way as Game of Thrones did without just imitating the narrative structure of that show and drawing out its plot over the course of eight seasons. Neither of those options was possible. As a result, House of the Dragon did not degenerate gradually but rather came on strong and explosive by compressing its narrative through the use of time leaps. It made use of its time to focus entirely on the most significant moments in Westeros' history, such as the one that "The Black Queen," the season 1 finale directed by Greg Yaitanes, revolves around.
For several of the characters in House of the Dragon, "The Black Queen" serves as a moment of reckoning, but Princess Rhaenyra (played by Emma D'Arcy) in particular is one of those characters. However, it is also an important turning point that sheds light on the show's narrative up to this point and reveals the direction in which it will proceed in the next second season.
As sick as King Viserys I (Paddy Considine) was as leprosy ravaged his body in the years leading up to his death, his single-minded determination to keep his family united ahead of the great prophesied winter was also what prevented his loved ones from plunging Westeros into war. Viserys I was portrayed on Game of Thrones by Paddy Considine. In their younger years, Rhaenyra and her uncle-husband, Prince Daemon (Matt Smith), were not able to recognize Viserys' relative moderation as the benefit that it was to Westeros. Neither one of them was aware that their own aspirations for the Iron Throne could one day put the entire House of Targaryen in jeopardy, nor were they aware that Viserys' reign as king, as flawed and monstrous as it was at times, was truly defined by his profound and unwavering love for his entire family. Neither of these things occurred to either of them.
Even though Viserys stood directly in the way of Daemon and Rhaenyra's ability to claim the Iron Throne at different points earlier in this season, "The Black Queen" lays bare just how much his love meant to them both. While Daemon and Rhaenyra's relationships with Viserys were complicated, "The Black Queen" lays bare just how much his love meant to them both.
As the old King Jaehaerys I (Michael Carter) first convened a Great Council to select an heir, it was difficult to feel much of anything during the premiere of House of the Dragon. This is because House of the Dragon had not yet given us the opportunity to properly get to know who any of these people were. It was not evident at the time how filthy Jaehaerys I did Princess Rhaenys (played by Eve Best), nor was it known how attuned Rhaenyra was to the risks that she and Alicent Hightower (played by Olivia Cooke) would one day confront as women born into royal households. But as a very pregnant Rhaenyra stalks around a war room in Dragonstone with her very illegitimate sons Jacaerys (Harry Collett) and Lucerys (Elliot Grihault), you can see plainly how learning to play the game of thrones has shaped the trajectory of the princess's life. Harry Collett and Elliot Grihault play Jacaerys and Lucerys, respectively.
Nothing about the way House of the Dragon has seemed fixated on the idea of women having terrible and horrific births is made any less discomfitting by "The Black Queen." However, the scene in which Rhaenyra goes into premature labor after learning from Rhaenys that her father has passed away is one of the most powerful scenes in the episode. It is an essential bit of gut-wrenching awfulness that is grounded by the powerful energy that D'Arcy pours into their performance.

As Rhaenyra continues to reject the assistance of her handmaidens, "The Black Queen" requires that you bear witness to the physical anguish that she is able to withstand as well as the emotional suffering that nearly causes her to break down at her most exposed and vulnerable moment. The episode focuses not only on the tragedy of Rhaenyra's baby being stillborn but also on how easy it is for Daemon to leave Rhaenyra's side during labor despite the baby being his and how the death of the baby was at least partially related to the extreme toxic nature of their relationship. Rather than focusing solely on the tragedy of Rhaenyra's baby being stillborn, the episode focuses on how easy it is for Daemon to leave Rh
When Daemon begins lobbying for war with the Greens in King's Landing, "The Black Queen" leaves little room for doubt that some part of Daemon sincerely believes that he is acting in Rhaenyra's best interest. This is because Daemon is a character from the House of Black and White. In spite of this, the episode underlines how much of Daemon's withdrawal from Rhaenyra, despite the fact that she is physically reaching out for him, also comes from a place of scorn, which is easier for him to tap into now that his brother Viserys I is finally out of the picture for good. When Rhaenyra (Rhys Ifans) gets up on Dragonstone with terms from King Aegon II (Tom Glynn-Carney), Daemon's irritation with Rhaenyra is justified up to a certain point. Rhaenyra refuses to assassinate Ser Otto Hightower (Rhys Ifans) once he shows up on Dragonstone with those terms.
While Daemon is choking his new queen for having the audacity to mention the genuine Song of Ice and Fire to him, "The Black Queen" portrays him in the most truthful and unsympathetic light possible in order to drive home the point that his ambitions make him a dangerous man.
House of the Dragon did a surprisingly effective job of illustrating why anyone with common sense who had them at their disposal might be inclined to exercise restraint by chronicling the many ways that nobles in Westeros could hurt one another without using dragons. This was accomplished by chronicling the many ways that nobles in Westeros could hurt one another without using dragons. The concept that Game of Thrones spent years alluding to and eventually built toward as the magical creatures returned to Westeros from the brink of extinction was that the true level of chaos and destruction that the Targaryen dragons could unleash. This was something that Game of Thrones spent years alluding to and eventually built toward. But whereas the dragons in "Game of Thrones" were shrouded in a certain degree of mystery, "The Black Queen" is quite matter-of-fact about the danger they pose because of the raw power they possess and how difficult it is to rein in that power once it has been unleashed. This is in contrast to the dragons in "Game of Thrones," which were given a certain degree of mystique.
The fact that Rhaenys was aware of this fact was what would have set her apart as a truly great queen, and it was also what made her decision to abstain from committing mass murder during Aegon's coronation such a graceful and surprising display of power. And it is ultimately House of the Dragon's dedication to delving further into that concept that makes "The Black Queen" feel like it might have been a part of Game of Thrones during the show's most successful era.
House of the Dragon has more than proven that it is deserving of the right to interrupt its narrative with scenes that are just a sword and sorcery extravaganza. However, "The Black Queen" did more than just build up to a dragon battle; it also provided a sneak peek at the upcoming episode "Dance of the Dragons" by allowing Prince Aemond (Ewan Mitchell) the opportunity to finally exact some revenge on his nephew Lucerys, who (accidentally) took one of his eyes when they were children. This was a preview of the upcoming episode "Dance of the Dragons."
Rhaenyra, despite all of her experience in wartime, doesn't even consider the possibility that it might not be the best idea to send her two teenage sons out into the world with their relatively immature dragons, given the number of people who want them all dead. Rhaenyra is completely oblivious to this possibility. The brilliance of "The Black Queen," however, lies in the way that the episode brings to your attention the fact that Rhaenyra is driven more by optimism than she is by outright folly, and also how much she resembles her father as a result of her optimism.
Rhaenyra decides not to send Lucerys to Storm's End because she wants Lord Borros Baratheon (Roger Evans) to publicly shame him first, before Aemond pursues him into the sky and kills him while riding a dragon. She does this because she believes that the rulers of Westeros should err on the side of caution out of an abundance of concern about what might become of their kingdoms in the event that an all-out battle involving dragons ever breaks out in the future. In a strict sense, she is correct because Lord Borros makes it abundantly clear that he does not wish to become involved in any personal quarrel the two Targaryen lads may have with one another. However, in typical fashion for Game of Thrones, "The Black Queen" concluded with a shocking turn of events that diverged from George R.R. Martin's Fire & Blood while also being able to fully capture the spirit of the source material.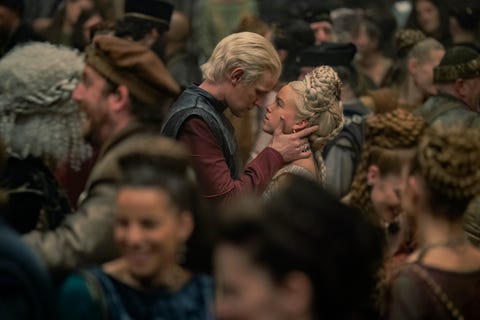 The fact that Aemond kills Lucerys by accident in the season 1 finale of House of the Dragon rather than on purpose like he does in Fire & Blood lends a wonderful top note of tragedy to the episode, which feels symbolic of how much more personal and brutal the series' upcoming chapters will be. It was always going to be exciting to see Rhaenyra go on the offensive to kill her former best friend, but now things are going to get ugly in the same way that most confrontations in Game of Thrones do since they are the result of hurt feelings and misunderstandings. Because of all of the world building and thorough character development that went into the rest of the season, House of the Dragon was able to get to this kind of comfortable cruising altitude. If it hadn't been for all of that, the show never would have been able to get here. There is no turning back now that the show has reached to this point of being overblown and poised for bombast, and this feels like a more than hopeful note for House of the Dragon to close on.
---
You may also like