Leather is one of the most long-lasting and low-maintenance materials available for home furnishings. If you follow the appropriate methods, keeping your leather sofa, chair, or ottoman clean is pretty straightforward. However, different varieties of leather upholstery require different cleaning methods, so you must first identify the sort of leather you have. To keep your leather furniture looking fantastic, learn how to identify, clean, and maintain it.
Leather Upholstery Types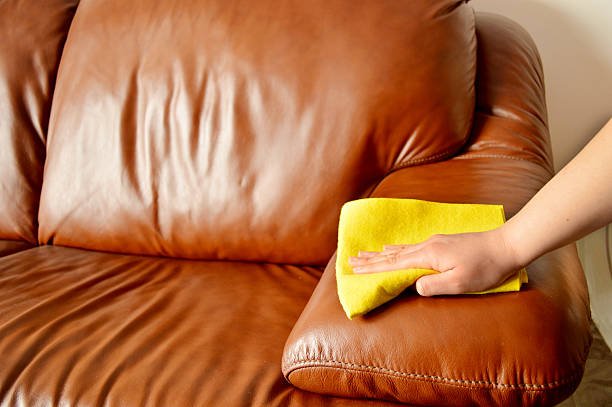 Start by reviewing the label or written papers that came with the piece, or look up the item on the retailer's or manufacturer's website to find out what kind of leather upholstery you have and how to care for it. Here are some hints if you don't have access to care instructions and aren't sure what kind of leather you have.
Leather that hasn't been protected. Aniline leather, also known as pure aniline, full aniline, or unfinished leather, is soft and pleasant to the touch. The leather has been dyed with aniline dye all the way through, but no surface pigment color has been added. Other than a dirt-resistant treatment, it has little or no protective layer. The leather, which can develop a patina, may show natural surface grains and marks.
Aniline leather is more stain-prone than treated leather, and it's also more expensive. Pull-up leather, which is injected with oils and waxes, and nubuck leather, which has been distressed or buffed to give a smooth, velvety feel, are two more forms of aniline leather.
Leather that has been protected. Protected, or finished, leather is used in the majority of leather furniture. Semianiline, aniline plus pigment, and colored leather are all terms used to describe these leathers. Pure aniline leather is less durable, stain-resistant, and uniform in appearance.
Semianiline leather is aniline-dyed with a pigment color layer on top. It has the same soft feel as pure aniline leather, but thanks to the protective pigment covering, it is a little more durable. Other leathers that are protected are covered in thicker layers of pigment and polymer. They have a more rigid feel and can withstand greater wear and tear.
Leather Upholstery Maintenance
Leave the homemade concoctions at home. When it comes to cleaning leather furniture, keep things simple and stay away from do-it-yourself solutions. Homemade mayonnaise and vinegar solutions are better reserved for salads and sandwiches, not the leather-cleaning menu. Clients have harmed their furniture with everything from hair-care chemicals to Pine-Sol, according to Donna L. Frehafer of Wellington's Leather Furniture in Port Ludlow, Washington. Keep in mind that using the improper cleaner or conditioner on leather furniture can void the warranty. The most crucial thing, according to Frehafer, is to avoid using anything that hasn't been approved by the tanneries.
Cleaning Supplies:
– Distilled water – Mild, neutral-pH nondetergent liquid soap, such as Neutrogena or Dove, or a leather cleaner specialized for furniture upholstery – Vacuum cleaner with brush attachment
– White microfiber towels, soft
– Tarp or drop cloth – Leather conditioner (commercial) (optional)
Cleaning leather that hasn't been protected. Some furniture manufacturers propose simply cleaning unprotected aniline leather with a clean, dry cloth and vacuuming it with a soft brush attachment on a regular basis. Others recommend wiping the surface with a soft cloth dampened with distilled water or using an approved leather cleaner. Scratching and staining can ruin the natural look, so be careful when cleaning. Before using any products, consult the manufacturer's cleaning instructions or a leather cleaning professional, and test them on a hidden surface first.
Cleaning leather that has been protected. Semianiline and pigmented leather, in particular, can withstand more abuse and cleaning than aniline leather. However, products containing ammonia or alkalies should be avoided, as they can permanently damage leather, according to the Institute of Inspection, Cleaning and Restoration Certification. Saddle soap, detergents, oils, furniture polishes, abrasive products, and cleansers containing caustic substances should all be avoided.
Lexol, Mohawk, Leather Master, and Leather Magic are commercial leather cleaning brands suggested by some furniture manufacturers.
Cleaning Procedures
Here are the steps for cleaning leathers that have been protected. Always test them in a hidden, unobtrusive location first. Also, place a drop cloth on the floor to catch any water droplets.
Vacuum the furniture piece using the brush attachment to remove dirt.
To make a cleaning solution, mix distilled water with a few drops of mild nondetergent soap. Using the solution, dampen a microfiber cloth.
To ensure there is no discoloration from the soap and water, use the cloth to test an inconspicuous area.
Wipe the furniture down from top to bottom.
Wipe the furniture with a clean towel dampened with distilled water.
Using a clean towel, pat dry.
Spills, blemishes, and stains
Spills, especially liquids, are very sensitive to leather, so they should be removed as quickly as possible to avoid them soaking in and producing a difficult-to-remove stain.
Leather that hasn't been protected. On pure aniline leather, wipe spills and stains as soon as possible with a clean, dry white cloth to absorb them. Before you do anything further, consult the furniture manufacturer, your store, or a leather cleaning professional.
Leather that has been protected. Protected leather can have stains removed. Spills containing water, such as soda and juice, can be cleaned clean with a clean white cloth lightly soaked in distilled water and air-dried. American Leather suggests gently applying a soft cloth or sponge dampened with a moderate nondetergent soap and lukewarm water to persistent stains, wiping it off with a clean damp cloth, then blotting dry with another soft cloth. On leather, never use an air dryer.
Using a clean, dry white cloth, blot oil-based stains such as butter or body oil. There is no need to use any water. Over time, the stain will fade into the leather. Melissa Brown of American Leather suggests Uniters Leather Degreaser for butter, oil, and grease stains on colored leathers.
Consult a leather cleaning professional if you're unsure or if you have any stubborn stains.
To Condition or Not to Condition?
You can use a commercial leather conditioner to maintain the leather nice and supple after cleaning and on occasion after that.
Brown suggests using a leather conditioner every six to twelve months. "This will aid in the preservation of your leather piece's natural oils, keeping it soft and supple for many years," she explained. Leather Master, Mohawk, and Leather Magic are among the brands she recommends. She also recommends reading the care label on any commercial product before using it.
Conditioning oils containing silicone or wax, according to the Institute of Inspection, Cleaning and Restoration Certification, should be avoided since they can leave the surface permanently sticky.
Wellington's Leather Furniture's Frehafer suggests using a leather conditioner with sunscreen many times a year. Keep your leather furniture away from direct sunshine and heat sources to prevent it from drying out and cracking. "Leather breathes and draws moisture from its surroundings to keep it soft and supple," adds Frehafer. "Because there is less moisture available in some situations and places where it is very dry, it will require extra conditioning."
---
You may also like