I'm sorry to tell you this, but that warm throw blanket you've been cuddling with on your sofa is probably filthy. Consider how many filthy items it comes into contact with on a regular basis: pet hair, food crumbs, drink spills, household dust, body oils, and hair products, to name a few. The quantity of filth that could be hiding in your beloved blanket's folds is incredible. Your throws, whether weighted, electric, wool, fake fur, or fleece, should all be washed once in a while. So gather your blankets from your sofa, bed, and other locations, because here's how to wash every sort of blanket in your home.
How to Take Care of a Fleece Blanket
Maintaining the super-soft feel of fleece blankets (or other fuzzy throws like faux fur and microfiber) is a challenge when washing them. Wash fleece blankets separately in cold water on a moderate cycle to avoid pilling or matting. Only use a modest amount of detergent; additional soap will not necessarily clean your blanket. In fact, too much detergent can cause the fleece fibers to cling together, making your blanket feel less soft.
Bleach can harm the fibers and change the color of the blanket. Because polyester fleece is naturally stain-resistant, your fleece blanket should be clean after a cold water wash with soap. Pre-treat stubborn stains with a drop of dishwashing liquid and let it sit on the place for about 10 minutes before blotting it away with a paper towel or cloth. After washing, hang fleece blankets to dry on the line or dry them on a low or no-heat cycle in the dryer. Avoid using high heat to dry your fleece blanket, as this might cause the strands to melt or shrink.
How Do You Clean a Weighted Blanket?
The best approach to wash a weighted blanket is determined by its design, which includes the fabric and filler used. Glass microbeads or plastic pellets weighted blankets should be safe to wash, but check the manufacturer's instructions for particular cleaning requirements.
Most blankets up to 20 pounds can be washed in your home washing machine on a gentle cycle using cold water and a mild detergent. Avoid using bleach, which can harm the fibers of your blanket over time, and fabric softeners, which can cause a buildup that makes your blanket itchy.
Spot-clean the weighted blanket with a mix of warm water and laundry detergent for tiny spots that don't require a full wash. If washing a weighted blanket is too much bother, consider investing in a duvet cover (or a weighted blanket that comes with one) that you can quickly remove and wash.
Place your weighted blanket in the dryer on a low-heat setting to dry, or air dry it on a clean dry surface like the side of a bathtub. To prevent the blanket from losing its shape when drying, make sure it is hung evenly. Take your weighted blanket to a laundromat if it weighs more than 20 pounds. Heavy blankets are better suited to large, commercial-sized washing machines.
What is the Best Way to Wash a Wool Blanket?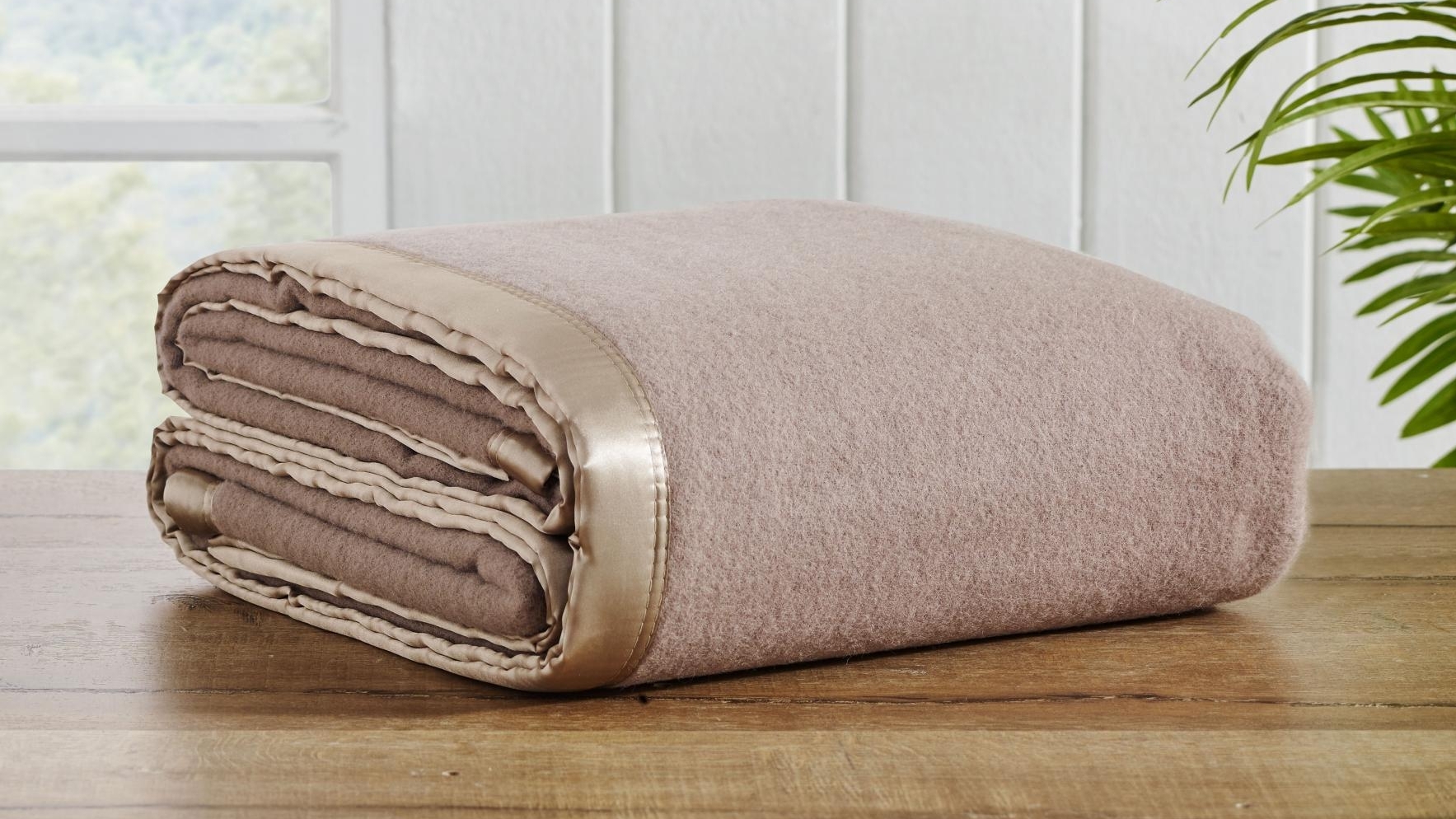 Wool blankets only need to be washed a few times a year because they naturally repel dirt and stains. You may refresh a wool blanket in between washes by shaking it out and brushing it with a soft-bristled fabric brush to remove dirt and debris. Brush in the same direction to avoid damaging the fibers of the blanket.
Check the manufacturer's care instructions before washing a wool blanket to be sure it's not dry-clean only. If the blanket can be washed in the machine, do so with cold water and a wool-safe detergent. First, put the blanket in the washing machine and soak it for about 15 minutes in the water and detergent solution. After that, choose a mild cycle and let it run for two minutes before switching to the rinse cycle. When your wool blanket is finished, hang it to dry away from direct sunshine, which can fade the fabric's colors. Before hanging the blanket, roll it in a towel and gently squeeze it (don't wring it out) to eliminate any excess moisture. Wool blankets should not be dried because this might damage the delicate fibers and cause shrinkage or a coarse, scratchy texture.
What is the Best Way to Clean an Electric Blanket?
Although it may appear that washing an electric blanket will harm it, most heated blankets are designed to be machine washable. To begin, make sure the blanket is unplugged and that all wires and controls are disconnected. Wash it in cool water with mild detergent (no bleach or fabric softeners, as they may harm the fibers), and use the gentlest cycle possible to avoid putting too much pressure on the wiring within. Allow the machine to agitate for 2-3 minutes before proceeding to the rinse cycle and removing the blanket as soon as the cycle is complete.
To air dry wool blankets, gently shape them back to their original shape and stretch them over a clothesline or shower rod. Alternatively, you can dry your electric blanket on a low or no-heat setting in the dryer (high heat can damage the interior wiring). Allow about 10 minutes for the blanket to dry in the dryer before removing it and hanging it to air dry. Before plugging it in and turning it on again, make sure the electric blanket is entirely dry.
Washing a Faux-Fur Blanket
Faux-fur blankets are often constructed of machine-washable synthetic fibers such as acrylic and polyester (unlike their delicate counterparts). Check the tag on your blanket first. Some people advise solely using dry cleaning. Many faux-fur blankets, on the other hand, can be washed at home using the following approach. Place the blanket in your washing machine and wash it on a cold, delicate cycle with your regular detergent. Use the lowest spin setting if your washer doesn't have a gentle option. Do not use chlorine bleach or fabric softeners. Allow the blanket to air dry on a rack or clothesline. Once the faux fur is dry, give it a good shake to puff it up. Brush faux-fur blankets in all directions using a pet slicker brush ($5, Walmart) or a wide-tooth comb if the material appears matted. Use a steamer instead of an iron.
---
You may also like
KeWiki is an affiliate-based website that tests and reviews the best tech, appliances, gear, and more. You can trust our veteran reviewers and experts to find the best stuff just for you.
KeWiki strives to be probably the most trusted product suggestion and service on the web. We obsessively test and report on thousands of things annually to suggest one of the best of all the things. We aim to save lots of you time and get rid of the stress of buying, whether or not you're on the lookout for on a regular basis gear or items for family members. We work with complete editorial independence. Meaning nothing seems on the location as a suggestion until our writers and editors have deemed it one of the best by our rigorous reporting and testing.