The shonen genre is filled with supernatural series revolving around vampires. It's a popular choice because of the wide range of set-ups you can orchestrate with these mystical creatures, but is there room for a new series to leave its mark on the genre? Today I'm here to find out with Volume 1 of My Dear, Curse-Casting Vampiress from Yen Press. 
The story follows protagonist Isuzu Osaka, who is a squad captain of the Anti-Vampire Safety Force squad tasked with defeating vampires who are out to kill humans in Japan. However, vampires are beginning to overwhelm the system and it's no secret that humanity is in danger of going extinct if something isn't done to kill more of them. Osaka is hopeful that he can find Baroque, a vampire rumoured to kill her own kind and when one of his coworkers finds some information on her whereabouts, Osaka heads straight there…  
As it turns out, Baroque is being held captive by the Japanese government in a top-secret facility, which Osaka breaks into. He finds her bound and gagged, clearly having been used as an experiment. Our protagonist first expresses his gratitude for all the work Baroque previously did hunting vampires and then asks her to join him in protecting humanity from the current threat. The vampire agrees to come with Osaka; after all, remaining captive in this room is hardly a good alternative, and the two set out to defeat their first target. 
Together they defeat the vampire, but then are immediately captured by government forces and restrained. Osaka is told he's going to be killed, while Baroque will return to captivity. Osaka was prepared to die when he broke Baroque out, but now he's proved that she can kill vampires and won't harm humans, he begs the officials to set her free to help protect Japan. However, Baroque has grown fond of Osaka and refuses to help unless he's kept alive as her partner.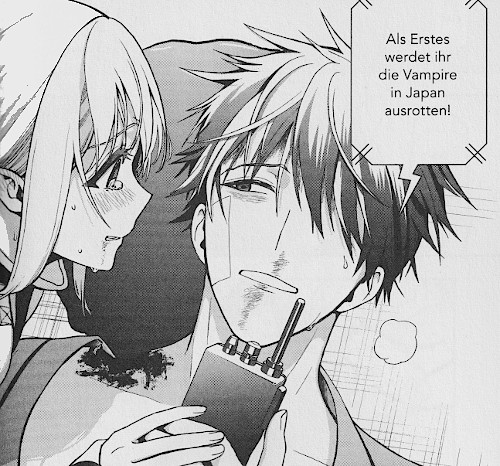 With their backs against the wall due to a vampire breaking into the facility to kill Baroque, the government officials are forced to give in to the demands and let Osaka and Baroque pair up as a new vampire-fighting unit. Of course, they'll be under strict observation to make sure they don't make a bid for freedom. And should Baroque pose a threat to humans, then they'll both be dealt with accordingly (which no doubt means finding themselves back in this situation). 
This is mangaka Chisaki Kanai's third series overall and their second to make it to the West (the first being When a Magician's Pupil Smiles also available from Yen Press). This is a polished first volume with a lot more depth to it than you might expect from the premise. There's an interesting history to the vampires, as well as Baroque's role as a vampire slayer and the fact she uses curses to fight them as opposed to simply brute force. This isn't a simple human versus vampire story, it feels like everything has meaning. I also appreciate that Kanai has gone for a relatively realistic take on the story, particularly when it comes to the government holding Baroque captive for so long as that's something you could see happening in real life in a similar situation. 
I like Osaka as our main character, too. He's a bit of an enigma and as the book goes on we find he has amnesia and doesn't remember anything from before a year ago. Not only that, but we've seen him put through the wringer as he fights vampires here in Volume 1 and the fact he doesn't die is a testament to there being something a bit strange about him. Is he lucky or well-built or is there something more to his story? That's something that will be revealed slowly as the series goes on, it seems. 
When it comes to the characters, it's Baroque who is the weakest link. She's a famous vampire, but she's always depicted as small and 'moe'. She's head over heels in love with Osaka, but there's not a great foundation for that as it seems driven by the fact that he's the only one to show her any kindness for a long time. Now she's been freed and let loose into the world, I'm hopeful we'll see more of her personality come out so she becomes more of a rounded character than simply someone who's in love with Osaka and a powerful vampire.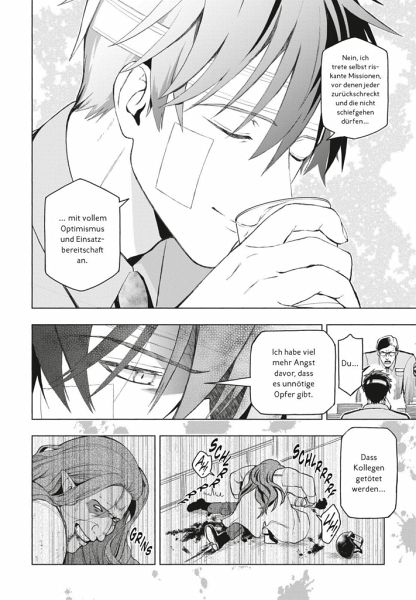 Putting Baroque aside, there's nothing else to complain about here. The story is solid and the artwork is superb. Action scenes are detailed and easy to follow, while moving at a fast pace. Things slow down when it comes to the interactions between our two main characters and moving the story along. Kanai certainly has a good grasp of how to pace each chapter. There's some good attention to detail too, like remembering not to give Baroque a reflection but making sure her clothes reflect in mirrors so it looks like they're floating. None of the vampires in this first volume have generic designs either, each has had a lot of thought put into how they should look and how they fight as individuals. 
Most importantly My Dear, Curse-Casting Vampiress knows when to be silly and when to take itself seriously. At heart, it's a battle shonen and it delivers everything you would expect of a manga in this particular genre. I wouldn't say there's anything original here, but the execution of it is polished enough that I don't think that's a problem. There's a lot of room for interesting developments as the series goes on, but even if future volumes are more of what we've seen here, that will still please vampire fans. 
As previously mentioned, My Dear, Curse-Casting Vampiress comes to the West thanks to Yen Press. Volume 1 has been translated by Giuseppe di Martino with lettering by Anthony Quintessenza, both of which read well. There's also a colour page at the beginning of the book. 
The series has been ongoing in Japan since 2021 and is currently up to four volumes. Volume 2 is scheduled for an English release in September, but there's nothing listed after so it seems likely there will be a notable break in-between #2 and #3. 
Overall, vampire fans will be pleased to hear that My Dear, Curse-Casting Vampiress gets off to an excellent start. Mangaka Chisaki Kanai has put a lot of work into creating a series that's fun to read while also offering plenty of depth to its mysteries and cast. It may not sound very original, but that doesn't prevent it from being a very attractive offering for shonen fans.