As a fan of the previous Rascal Does Not Dream anime, this film is not at all what I expected. Up until this point, the series has followed a set pattern. Our protagonist Sakuta becomes involved with a young woman who is dealing with some aspect of growing up—be it peer pressure, physical appearance, sibling envy, or online bullying—which has resulted in something supernatural occurring as a result. However, this film breaks that pattern. There is no new main female character, and there is almost nothing supernatural in this film. Rather, this film is all about dealing with the fallout of Sakuta's adventures so far—mainly the case of his sister.
The original Kaede may be back, but that doesn't mean that all her problems have been solved. She now has a two-year gap in her memory—she has two years of education to catch up on. While her parents and teachers want to send her to a special school where children with unusual circumstances can learn at their own pace, Kaede is adamant about going to the same school as Sakuta. Of course, since Kaede is still suffering from the trauma associated with her bullying, Sakuta, Mai, and all those who care about Kaede find themselves struggling with wanting to support her while knowing that what she wants to do may not be the best choice for her in the long run.
But it's not just school and her past trauma that Kaede has to work through. There is also the massive sense of insecurity that comes from her two-year memory loss. Nearly her entire support system is made up of people who met her in that two-year gap—people who knew and cared for the now-erased version of her. The support they show for Kaede in the present shows how they felt for the amnesic her, which makes her worry that everyone preferred that version of her. She feels that she can't live up to her other self and is determined to show that she has value too.
Kaede's is a heartbreaking story about battling against the feeling of inadequacy that comes in the wake of horrible experiences. You need help, but accepting it only makes you feel worse about yourself. Yet, it's not all doom and gloom. At the same time, hers is a story about not letting those feelings control your fate—about finding your path while being supported by those who love you. It's a solid tale for anyone who has had to deal with similar feelings.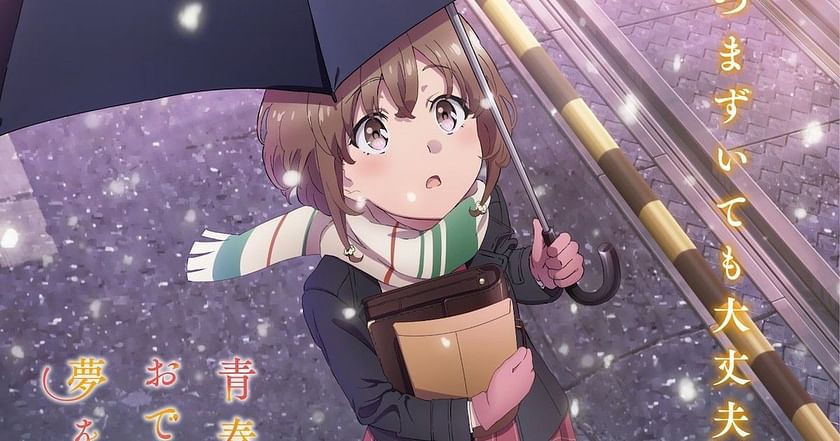 One other great thing about the movie is that even as Kaede's story unfolds, Sakuta is also dealing with his issues. Mai is set to graduate and start college in the coming months, while he still has a year of high school. This means that they won't be able to meet as often. Worse still, if he isn't able to raise his grades, he won't be able to get into her college. Seeing him handle all this stress while still putting his sister first makes him easy to root for and sympathize with. His side of the story also lays the foundation for the third film in the series, Rascal Does Not Dream of a Knapsack Kid, which is scheduled to release in Japanese theaters later this year.
On the visual side of things, what stands out the most is not the characters or any specific scenes but rather the backgrounds. The amount of detail in the locations seen throughout the film is stunning—whether they are key locations like the school, the beach, or random city streets and train stations. It helps bring the world and its grounded story to life. As for the music, it is largely forgettable except for a single scene where a simple baseline manages to convey the gravity and tension of the situation in a strikingly visceral way.
All in all, while this was not the film I expected to see going in, it is nonetheless a great entry in the Rascal Does Not Dream series. Its near lack of supernatural elements, allows the film to focus almost entirely on Kaede's plight. At the same time, the film is a solid epilogue to all that has come before—showing how all the people Sakuta has helped can come together to help him by helping Kaede. And better still, it also opens the door to new adventures with a mini cliffhanger to prep you for the series' next film.