The WD Black SN770 is a reasonably priced PCIe 4.0 NVMe internal SSD that performed admirably in our tests, particularly when it came to application loading and file copying. All we have are a few minor quibbles. A snap-on heat spreader and hardware-based encryption would round out the kit.
PROS
For a PCIe 4.0 drive, it's reasonably priced.
In our tests, it matched its rated sequential read and write speeds.
Strong overall storage performance and various trace tests
CONS
There is no hardware-based 256-bit AES encryption.
There isn't any heat-dissipation gear included
WD BLACK SN770 NVME SSD SPECS
| | |
| --- | --- |
| Internal or External | Internal |
| Interface (Computer Side) | M.2 Type-2280 |
| Internal Form Factor | M.2 Type-2280 |
| Capacity (Tested) | 1 TB |
| NAND Type | TLC |
| Controller Maker | Western Digital |
| Bus Type | PCI Express 4.0 |
| NVMe Support | Yes |
| Rated Maximum Sequential Read | 5150 MBps |
| Rated Maximum Sequential Write | 4900 MBps |
| Terabytes Written (TBW) Rating | 600 TBW |
| Warranty Length | 5 years |
Western Digital's latest PCI Express 4.0 internal solid-state drive, the WD Black SN770 NVMe SSD, offers decent performance at a low price ($129.99 for the 1TB drive we tested, with variants starting at $59.99 for 256GB). In our PCMark 10 Overall Storage benchmark, this DRAM-less M.2 SSD set a new high mark and performed well in tasks like program loading and file copying. The WD Black SN770 is certainly worth consideration by cash-strapped gamers, even though it comes just short of unseating our budget internal SSD champion, the ADATA XPG Atom 50.
A Low-Cost, High-Capacity M.2 Player
The SN770 is a PCIe 4×4 drive built on an M.2 Type-2280 "gumstick" printed circuit board (80mm long). It uses the PCIe 4.0 bus and the NVMe 1.4 protocol. The drive combines 112-layer TLC NAND storage with a WD controller developed in-house. (If any of this jargon is unfamiliar to you, see our dictionary of SSD words.)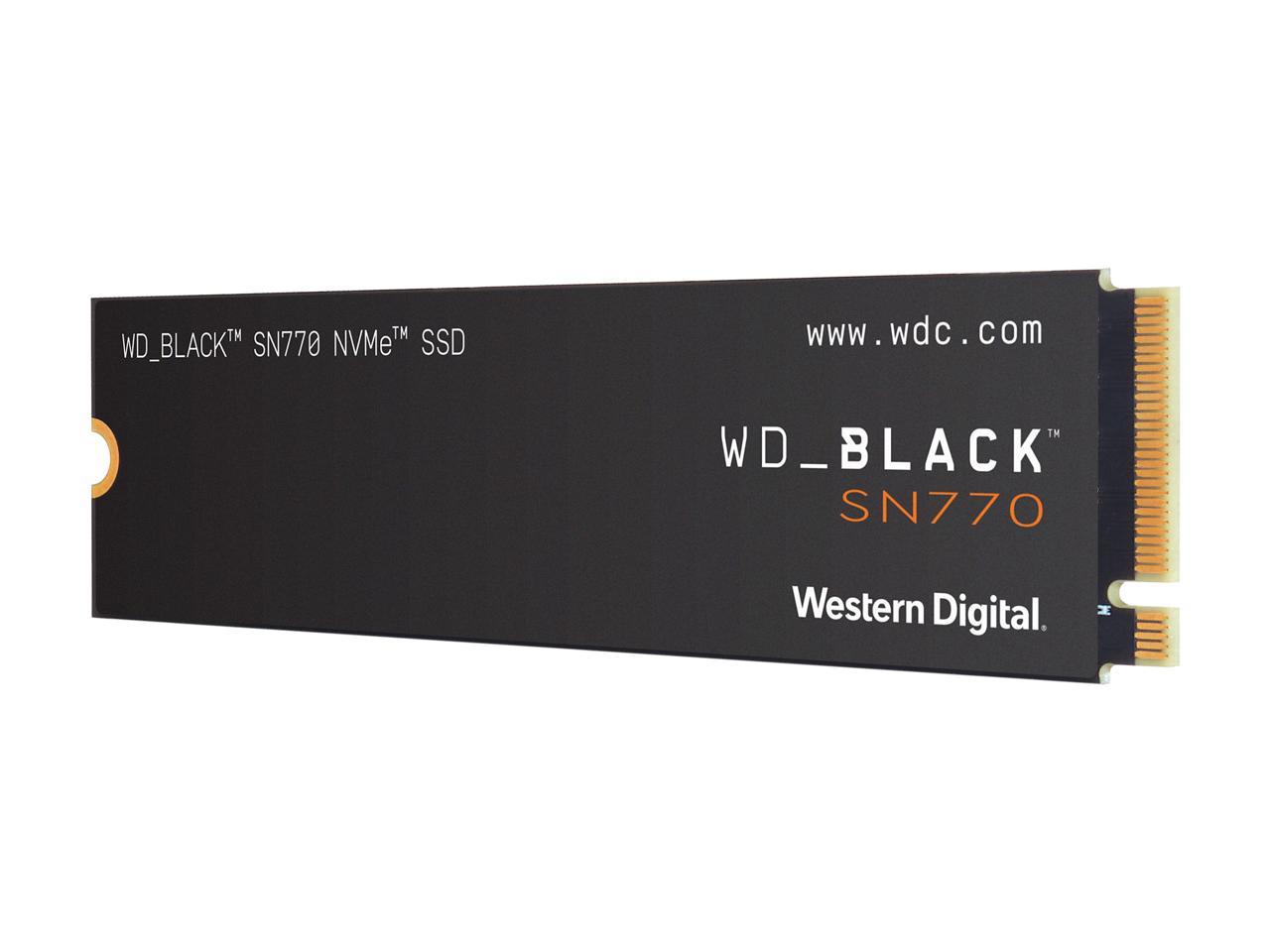 Instead of using the DRAM cache found in some more expensive drives, the controller uses your PC's main memory as a host memory buffer (HMB). The SN770 is the latest in a line of recent M.2 drives to use DRAM-less design; others include the XPG Atom 50 and the WD Blue SN570. Although reducing DRAM can help cut costs, it can also affect performance, but we saw no evidence of this when we benchmarked the SN770 using our testbed system.
Although the SN770 can be installed in a Sony PlayStation 5, WD does not claim that it is compatible with that gaming console. The PS5's sequential read performance falls short of Sony's specified 5,500MBps, and it lacks compatibility for HMB architecture. The XPG Atom 50 has the same drawbacks, although ADATA claims it to be PS5 compatible. (Because any M.2 SSD used in a PS5 will be used as a secondary drive primarily for game storage, peak performance will not be a factor.) However, we still recommend shopping for a drive that fulfills Sony's requirements and claims to be compatible.) The drive doesn't include a heat sink or spreader, relying instead on WD's thermal management technology and any thermal hardware on your PC's motherboard. It uses 20% less power than its predecessor, the WD Black SN750. For regular use, this should enough, however we like the extra security of at least an optional snap-on heat spreader, which would only add a few millimeters to the SSD's thickness.
The SN770 offers good value in a PCI Express 4.0 solid-state drive, with capacities ranging from 250GB to 2TB. For the 1TB drive we tested, the price divides out to 13 cents per gigabyte, which is just a penny per gig more than the 1TB XPG Atom 50, which is currently the only capacity available for that Editors' Choice drive (although ADATA says a 2TB version is due later this year). The 2TB WD Black SN770 doesn't save you any money (per gigabyte) over the 1TB variant, which costs the same 13 cents.
WD Black SN770 SSD Configurations
| Capacity | MSRP | TBW Rating | Cost per GB | Max. Throughput (Read/Write) |
| --- | --- | --- | --- | --- |
| 250GB | $59.99 | 200 | 24 cents | 4,000MBps / 2,000MBps |
| 500GB | $79.99 | 300 | 16 cents | 5,000MBps / 4,000MBps |
| 1TB | $129.99 | 600 | 13 cents | 5,150MBps / 4,900MBps |
| 2TB | $269.99 | 1,200 | 13 cents | 5,150MBps / 4,850MBps |
The WD Black SN770 has normal TLC-based drive durability ratings, measured in terabytes written (TBW). The WD Black SN850, Crucial P5 Plus, and Samsung SSD 980 Pro all have ratings of 600TBW for 1TB and 1,200TBW for 2TB, while the Kingston KC3000 has ratings of 800TBW for 1TB and 1,600TBW for 2TB. For 1TB, the XPG Atom 50 is rated at 650TBW.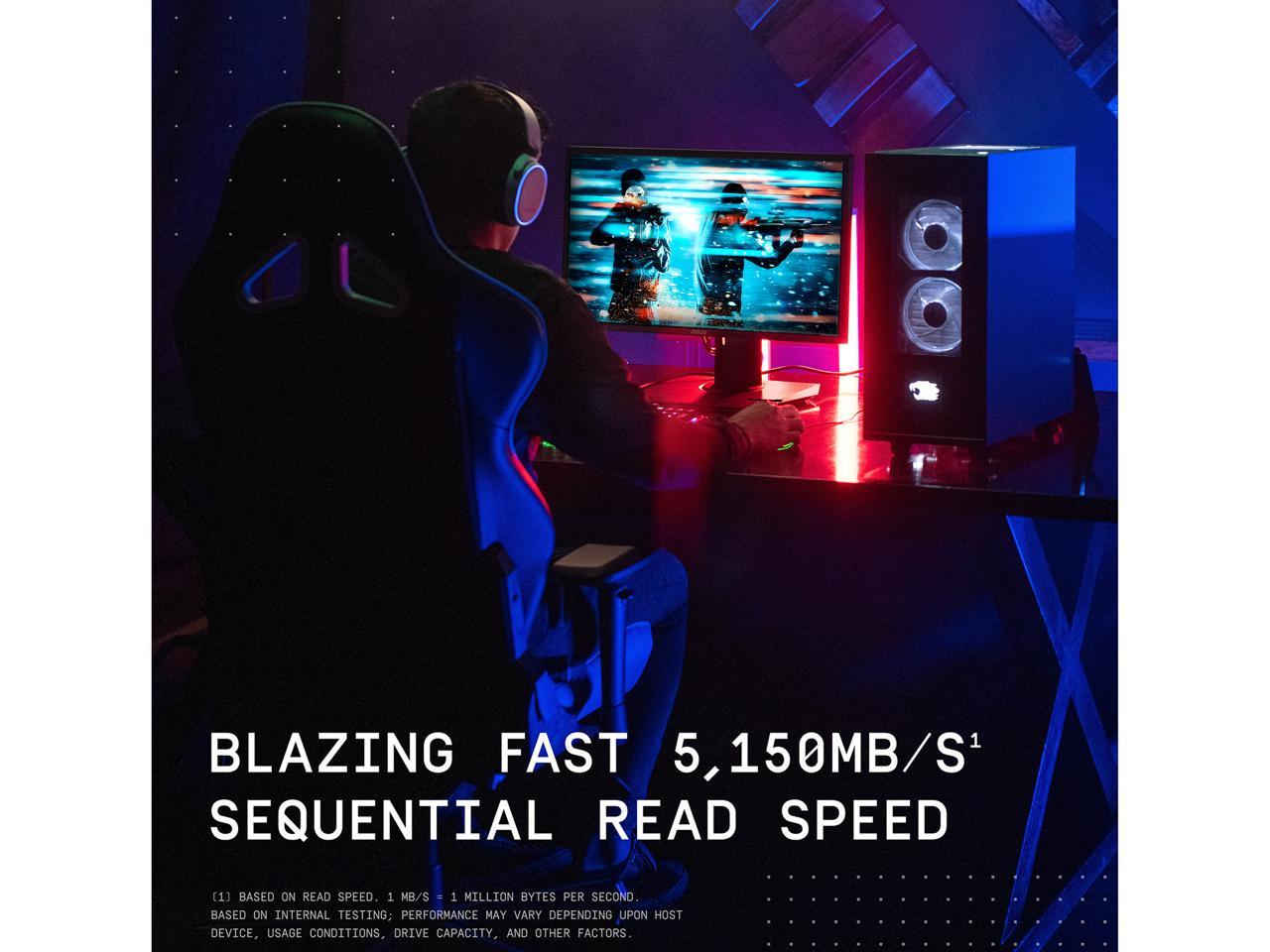 The Corsair Force Series MP600 and the Silicon Power US70 are rated at 1,800TBW for 1TB and 3,600TBW for 2TB, respectively, for PCIe 4.0 drives. QLC-based drives, such as the Mushkin Delta and the Sabrent Rocket Q4, on the other hand, are less durable, with capacities of only 200TBW for 1TB, 400TBW for 2TB, and 800TBW for 4TB.
The "terabytes written" specification is a manufacturer's estimate of how much data may be written to a drive before some cells fail and the drive is retired. (As with the drives cited above, TBW tends to scale capacity 1:1.) The SN770 is covered by WD's warranty for five years or until the rated TBW number in data writes is reached, whichever comes first.
The SN770's sequential read and write speeds of 5,150MBps and 4,900MBps respectively place it in the middle of the PCI Express 4.0 internal SSD market. The ADATA XPG Atom 50 (5,000MBps read / 4,500MBps write), the Corsair MP600 (4,950MBps read / 4,250MBps write), and the MSI Spatium M470 (5,000MBps read / 4,400MBps write) are all drives with similar rated speeds.
For software, the business offers the WD Black Dashboard, which we've seen on other WD Black products like the WD Black SN850. You may use the Dashboard to check the state of the drive (space allocated, volumes, and temperature), perform S.M.A.R.T. diagnostics, enable Gaming Mode (which disables power saving), and upgrade the firmware. 256-bit AES hardware-based encryption, which we've seen on comparable drives like the XPG Atom 50, is one feature the drive lacks.
The WD SN770 was put to the test, and it performed admirably in everyday tasks.
We used a desktop testbed with an MSI X570 motherboard, AMD Ryzen CPU, 16GB of Corsair Dominator DDR4 memory clocked at 3,600MHz, and a discrete graphics card to test PCI Express 4.0 internal SSDs.
PCMark 10 Storage and Crystal DiskMark 6.0 were used to run the WD Black SN770 through our internal solid-state drive testing. The sequential speed tests in Crystal DiskMark simulate best-case, straight-line transfers of big data, providing a standard measure of drive throughput.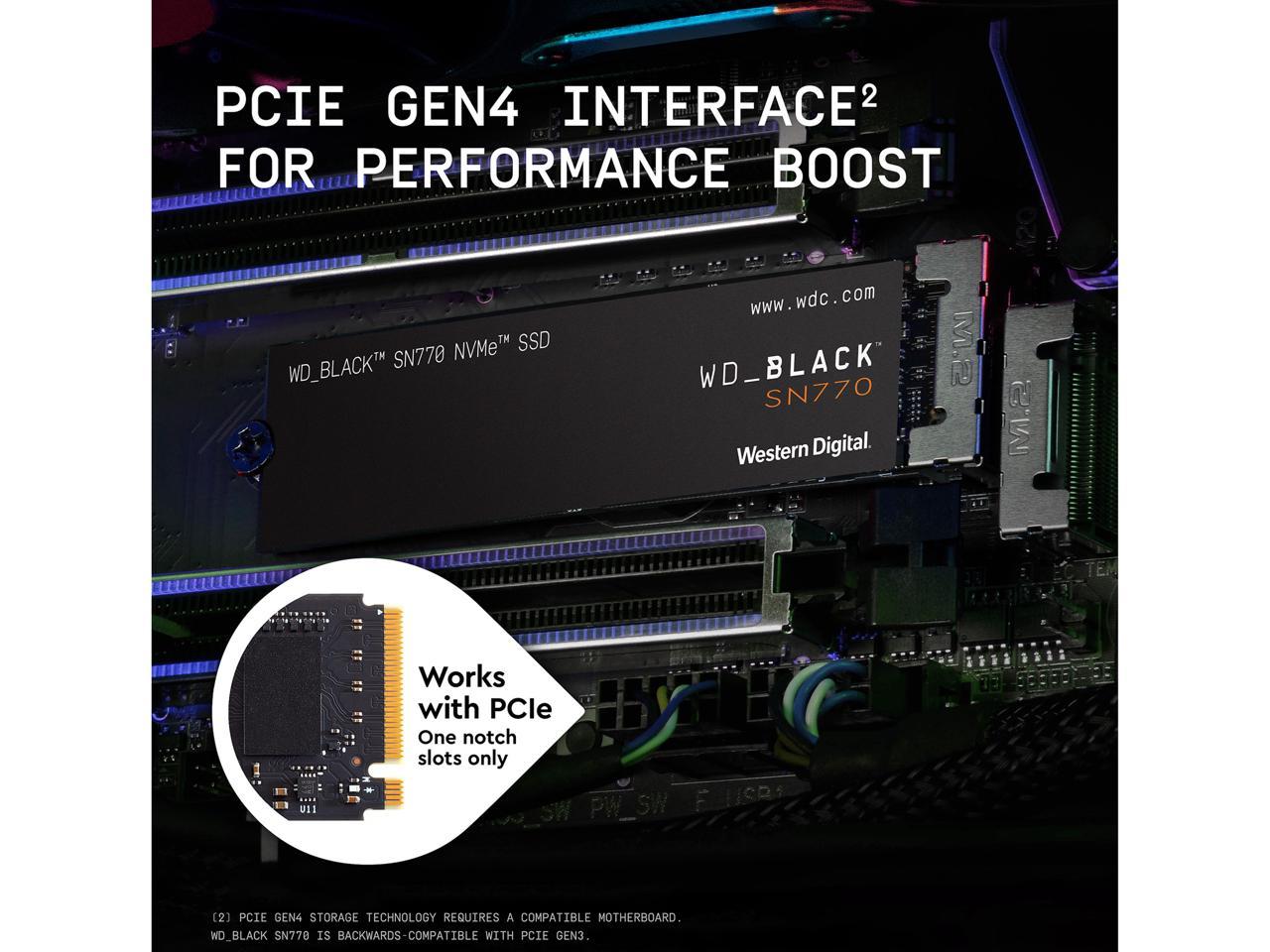 In Crystal DiskMark testing, the SN770 marginally outperformed its 5,150MBps read and 4,900MBps write rates. Its 4K read and write ratings were almost identical to the top of our comparative drives.
In PCMark 10's overall storage test, which examines a drive's ability to do everyday tasks like loading programs and transferring data, the SN770 received the highest score in the group. The SN770 performed admirably in individual trace tests, with high file-copy and ISO-copy scores, one of the best Windows booting scores, and middle-of-the-pack gaming and creative-app start scores.
Overachiever from the bargain bin
Although the WD Black SN770 NVMe SSD lacks the blistering throughput of some blue-chip PCI Express 4.0 drives, it performed admirably in our tests and costs less than others. It performed admirably in our testing, setting the pace in the overall PCMark 10 test and surpassing many drives with higher rated speeds in the trace tests.
The SN770 is a close match for the ADATA XPG Atom 50, which won Editors' Choice. Its overall PCMark 10 score was higher, but Atom outperformed it when it came to installing Windows and launching Adobe apps and games. Both drives are reasonably priced, albeit the SN770 is slightly more expensive. The WD Dashboard drive management software is excellent on the SN770, but it lacks the Atom 50's 256-bit AES encryption. It also lacks any type of heat dissipation hardware, such as a heatsink or a cheaper heat spreader. While the Atom 50 is still our top recommendation for affordable internal SSDs, the SN770 is a capable alternative that comes in second. We'd be content with either option.
WD Black SN770 NVMe SSD
---
You may also like
Zephyr Lee, a writer with a deep passion for science and a talent for explaining complex ideas in an accessible and engaging way. I believe that writing is not just about expressing oneself, but about educating and enlightening others. I strive to create stories that are both informative and engaging, that educate readers and inspire them to think differently about the world around them. I believe that writing has the power to change the way we see the world, and I am honored to be a part of that tradition.