So you've chosen to quit your job and work from home full-time. Alternatively, you may set up a home office to work on your new side hustle. That's fantastic!
You have complete control over your schedule when you work from home. You can even skip out early if you play your cards well.
But you can't expect to be productive by plopping down on your couch with your laptop. It is critical to set up an office or workspace in your house. Without it, you'll quickly become distracted, fall behind, and your home will no longer feel as welcoming.
The good news is that establishing and maintaining a home office is simple. Simply follow the steps below to set up an effective and well-organized home office in no time.
Where Can I Get A Home Office?
1. Make a list of the most critical questions to ask yourself.
Before you start redesigning, take a moment to think about a few things.
In Entrepreneur, Jo Heinz, president of the Dallas design firm Staffelbach, gives a helpful checklist. All you have to do is ask yourself these nine questions:
What are your plans for the space?
What kind of labor is required?
Will customers be able to see the space?
Will coworkers pay you a visit?
What kind of materials will you keep on hand?
What kind of gear do you require?
When are you going to do the most of your work?
Will you be able to participate on conference calls?
Will you ever participate in a video conference?
All of these inquiries will assist you in determining and visualizing the type of setup you'll need.
2. Search for windows.
For two reasons, having a window in your home office is essential:
It allows a lot of light in, which you'll need to light up your files, phone, or keyboard.
Natural light is essential.
Consider the last time you worked in a room with no windows. Isn't it true that it was unpleasant?
A window will help you maintain a healthy and productive mindset. As long as you don't spend the entire day staring out the window.
3. Determine the level of noise inside and outside your home.
You obviously want to work in a relaxed setting where you can concentrate. As a result, stay away from the loudest portion of your house.
Choose a location where the sound of your neighbors' music, construction down the block, or birds chirping outdoors is the least distracting.
If you still need to block out some noise, try Amanda Thomas's (AKA the Domestic CEO) advise and turn on some soothing background music on Spotify.
4. Create nooks and crannies in your home
Do you have an extra room in your house?
Then choosing a new office location is almost certainly a no-brainer.
If you live in a smaller apartment or house, though, you'll have to get inventive. For example, you could set up camp in the corner of your living room or dining area.
According to Lisa Kanarek, a home office specialist, areas that you use infrequently are your best choices. Simply attempt to make your environment feel as different and isolated as possible.
If at all possible, stay away from your bedroom. Working in your bedroom, according to Harvard sleep medicine researchers, reduces "the mental relationship between your bedroom and sleep." So, unless you want to suffer from occasional spells of insomnia, keep your laptop away from your bed.
What Is The Best Way To Set Up A Home Office?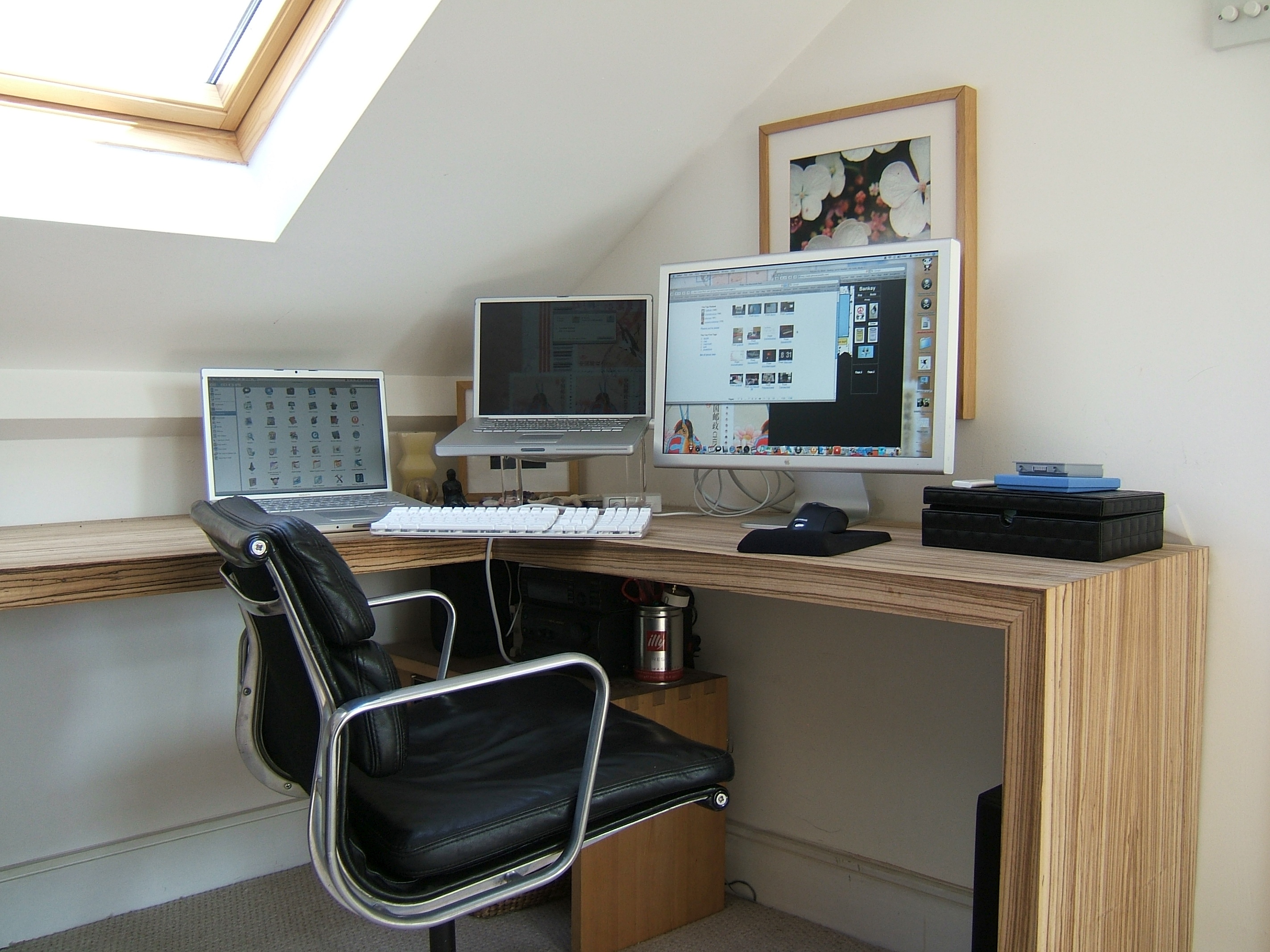 1. Choose a paint color that relaxes and focuses you.
Because you'll be spending a lot of time at your new home office, it should be a pleasant place to visit every day.
Choose hues that appeal to you and make you feel calm. The colors blue and green are naturally relaxing.
If you're a salesperson or negotiator, Christa O'Leary, founder of Home in Harmony Lifestyle, recommends using red as an accent color since it stimulates appetite and boosts pulse rate. A dash of yellow in the midst of a sea of blue can also help you focus.
Don't know where to begin?
Take a look at House & Garden's paint 101 guide. Choose a color scheme that appeals to you, then decorate the rest of the room in a complementary, aesthetically acceptable manner.
2. Invest on a comfortable office chair.
It's tempting to use your kitchen stool or couch as a desk chair, but we recommend investing in an ergonomic desk chair. You'll be sitting in it for the majority of the day. The last thing you want is for your home office to cause back discomfort or poor posture.
Don't want to spend a lot of money on a new chair?
Repaint, re-fabricate, and add extra cushions to an existing chair, like Amanda Thomas did.
3. Another option is to use a standing desk.
Although the health benefits of standing desks are debatable, science agrees on one thing: sitting for lengthy periods of time is bad for your health.
Consider standing workstations if you're concerned about being confined to a desk chair all day or want to save some space. Fully, UpDesk, Varidesk, and other companies have made suggestions to Lifehacker and Wirecutter.
4. Don't forget to bring a lamp for the office.
Task lighting reigns supreme in the home office.
The term "task lighting" refers to lighting a specific area in such a way that it makes it easier to complete tasks. In this situation, it refers to illumination that is most appropriate for your job.
You should ideally have some natural light coming in via your windows (s). Regardless, place additional lamps or overhead lighting near your desk to prevent eye strain.
Just make sure the lighting aren't too close together. A glare radiating off your computer screen is also undesirable.
5. Make sure your PC is in the right place.
There's a proper way and a wrong way to spend eight hours staring at a computer screen.
According to Fast Company, the top of your computer screen should be at eye level or just lower. As you skim along the words, your eyelids will naturally close and moisten a little. This protects your eyes from fatigue, allowing you to work at a faster speed.
Here are a few more crucial pointers to remember:
As you work, keep your feet on the floor or another surface. Also, position your keyboard so that your forearms are parallel to the ground.
6. Determine your additional hardware requirements.
A computer is required in any home office. However, depending on your industry, you may require far more gear than a normal laptop.
Take a seat and assess the situation. Is a separate mouse or monitor required? What about getting a printer? Perhaps one that can also scan and fax? Alternatively, you can use Scanbot to scan and fax documents directly from your phone. Consider what tools you'll need to do daily chores.
Go to an electronics store or buy online for your office equipment once you've cut it down to the necessities.
7. Next, determine your software requirements.
You may have discovered the ideal computer, printer, and keyboard, but your search isn't yet complete.
Certain apps will almost certainly need to be purchased and installed on your brand-new hardware.
Microsoft Office may be required if you conduct a lot of spreadsheet work and writing. You might also use G Suite, which is hosted on the cloud.
Adobe Photoshop and Illustrator may be essential if you're a graphic designer. Before you buy, make sure to check for any available discounts. Your firm might even pay for it.
8. Establish "work zones"
Lifehack advocates establishing various "work zones" depending on the sort of activity in your office to keep things organized.
There's your "primary hub," which is your computer and phone on a desk.
A "reference area" should be set aside for your filing cabinet, binders, folders, and any shelving units.
Your "supply area" can be a closet or a group of drawers where you keep your Post-It notes, stamps, stapler, and other office supplies.
If you have a printer, set aside a corner for "copying."
9. Get a plant for your workspace.
Greenery can be extremely beneficial. People are soothed by plants, which is beneficial in a potentially stressful work atmosphere.
That's not all, though. According to the Denver Post, a houseplant can help with tiredness, headaches, congestion, and even common cold symptoms.
If you're looking for a low-cost option, look no further.
A single fern or peace lily will suffice. Neither plant necessitates a lot of attention and will brighten up your workspace.
10. Establish some limits.
Because your home office should be a haven, it's critical to establish certain ground rules for the rest of the family.
Keep dogs out of the office if they are likely to be too distracting. Friends from down the block, as well as spouses or roommates, should not be allowed to drop in at any moment (unless it's absolutely required, of course).
Even if you don't have a boss breathing down your neck, you still have to work.
With that in mind, if you've managed to seal off a whole room for your workplace, remember to close the door when you leave for the day. This will assist you identify the room with a work environment and keep you focused while you're there.
What Is The Best Way To Organize A Home Office?
1. Sort your office supplies into categories.
When you don't have a clear organizational plan, you'll end up with clutter. The most straightforward strategy is to put comparable objects together.
HGTV has compiled a list of frequent categories and examples of goods in each:
Post-it packets, tabs, and stickers are all examples of sticky notes.
Stapler, hole puncher, and straight cutter are some of the tools you'll need.
a budget — a checkbook, a calculator, and a calendar for billing
Pens, markers, and highlighters are examples of writing equipment.
Envelopes and stamps in the mail
Labeler and label tape for labeling
To make it easier to find the groups, bundle them together and keep them in different drawers or boxes.
2. Keep track of your files
You probably don't need a filing cabinet stuffed with color-coded folders. At this moment, many jobs are almost entirely paperless. That isn't to say you should let your digital data become jumbled.
On your desktop, make necessary folders. Archive everything that is no longer needed. Also, back up everything on a hard drive and/or in the cloud on a frequent basis.
Do you still require paper files?
3. Go through the stacks of paper to find what you're looking for.
On a regular basis, offices amass stacks of memos, mail, bills, and other documents. Make it a point to comb through those heaps at the end of each week to keep them from growing into mountains.
Anything you don't need, toss it out or shred it. Keep everything you need in a file. Set aside anything that demands immediate or near-immediate action and focus on the work at hand.
4. Clear out your desk
Your desk is undoubtedly clogged with more than just papers. Take a look around and get rid of anything that doesn't belong: your bedroom books, the dog toy that ended up next to your phone, the crumbs of your meal.
It only takes a few minutes and eliminates a lot of potential distractions.
5. Make a label for your cables
Chargers, printer cables, modems, and other wires clog up even the most basic workstation.
Martha Stewart suggests affixing tiny labels to the ends of each thread to keep the tangled web straight. It will spare you the trouble of having to trace each wire back to its origin. And, as Stewart's example demonstrates, it doesn't have to be unattractive.
6. Keep a supply of office supplies on hand.
You no longer have an office manager to replenish your supplies. You don't want to run out of paper in the middle of a print job.
At least once a week, do a brief inspection of your cabinets and drawers. How do you feel about pens? Isn't it the same with ink cartridges? Notepads?
Make a note of what's going low and go shopping for replacements over the weekend.
7. Allow MakeSpace to collect and store your excess items.
Have some old files or extra computer peripherals cluttering up your new home office that you're unwilling to toss?
Allow MakeSpace to collect and store your belongings for you.
All you have to do is arrange a pickup (your first one is free! ), pack your belongings, and let us handle the rest.
We'll come pick up your belongings and deliver them to our safe, climate-controlled storage facility. We'll also develop an online photo catalog of your belongings (if you request it), so you'll always know what's in storage.
---
You can also read
KeWiki is an affiliate-based website that tests and reviews the best tech, appliances, gear, and more. You can trust our veteran reviewers and experts to find the best stuff just for you.
KeWiki strives to be probably the most trusted product suggestion and service on the web. We obsessively test and report on thousands of things annually to suggest one of the best of all the things. We aim to save lots of you time and get rid of the stress of buying, whether or not you're on the lookout for on a regular basis gear or items for family members. We work with complete editorial independence. Meaning nothing seems on the location as a suggestion until our writers and editors have deemed it one of the best by our rigorous reporting and testing.