Udon Entertainment announced during the Manga Publishing Roundtable panel at Anime Expo on Sunday that it has licensed the following four manga for release in 2024.
Udon Entertainment licensed the Ottoman: Henshin Hero Husband manga from Shueisha and the other three titles from Kadokawa.
The company will release the complete series of Ottoman: Henshin Hero Husband in two volumes.
Udon Entertainment describes Falling in Love with a Traveling Cat (pictured right) as "a full-color and much-beloved chara-goods book with a fun narrative."
Kusakabe launched the manga adaptation of Kamishiro and Takayaki's My Stepmom's Daughter Is My Ex (Mamahaha no Tsurego ga Moto Kano Datta) light novel series on Kadokawa's ComicWalker website in December 2019.
J-Novel Club licensed the light novel series, and it describes the story:
Ah, high school. Is there any better place to start fresh after a horrible middle school relationship? Nope! Not unless your ex ends up at the same school as you and is now your stepsibling. What was supposed to be a sanctuary of peace where I could avoid ever seeing her again has become a living nightmare! Everywhere I look, I see her—in my house, in my school, in my class. There's no escape! She even claims that she's the older sibling. Like hell she is!

But I won't lose to her. After all, I'm the older brother in this new family situation. That's right, we're family now. No matter how much we may have thought we loved each other before, we saw one another's true colors and realized we weren't meant for each other. That's why even though we may keep up a buddy-buddy sibling act for the sake of our parents, things will never go back to the way they used to be.
Kamishiro began serializing the story on the Kakuyomu website in August 2017. Kadokawa began publishing the story in print volumes with illustrations by Takayaki (Arifureta – From Commonplace to World's Strongest) in December 2018.
The light novels inspired an anime premiered in July 2022. Crunchyroll streamed the series as it aired.
Yūki Kanamaru's More Than a Married Couple, But Not Lovers (Fūfu Ijō, Koibito Miman.) manga centers on third-year high school student Jirō Yakuin, who gets saddled with his gyaru classmate Akari Watanabe for the class's "marriage training" project about practicing to be a married couple. Jirō is the complete opposite of Akari, but the two know that if they do well they will be able to switch partners to end up with their respective crushes, and so they force themselves to act like the perfect married couple.
The manga launched in Kadokawa's Young Ace magazine in 2018, and Kadokawa published the 10th volume on May 2.
The manga inspired an anime that premiered in October 2022. Crunchyroll streamed the anime as it aired in Japan.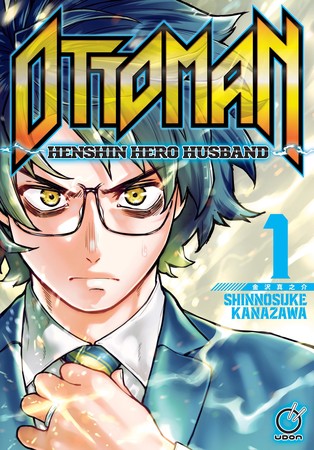 Kanazawa had revealed on his Twitter account in February that his Ottoman manga would have an English, Thai, Korean, and Italian release. Kanazawa did not provide details for these releases.
The manga centers on Sōya Gomi, a designer in a confectionery snack company, who used to dream of being a manga creator. While he is constantly troubled by his work, he finds his only solace and healing from his wife Yūka. One day, Sōya becomes involved in an accident, and when he comes to, he finds himself parasitically bound to an alien being, giving him superhuman abilities. When he finds out that another alien being is after Yūka, he creates his alter ego Otto-man, a superhero who will do anything to protect his wife, and the rest of the world.
Kanazawa launched the manga in Shueisha's Young Jump magazine in August 2021. Shueisha published the manga's fifth and final compiled book volume in November 2022.