Viz Media's Zom 100: Bucket List of the Dead World Premiere panel at Anime Expo was…unfortunately not that. The panel opened with an announcement that, due to technical issues, they were only able to show roughly the first half of the first episode of the anime. The disappointment in the audience was palpable, but thankfully, a charming array of guests and an empathetic opening to the anime more than saved the show.
Hosted by Urian Brown and Godswill Ugwa Jr, the event opened immediately with the dower announcement. The energy quickly turned around, though, as an advertisement for Haro Aso and Kotaro Takata's vibrant and cathartic Zom 100: Bucket List of the Dead manga played. All was forgiven in the eyes of the crowd as Kotaro Takata took the stage and offered rare insight into the manga artist profession and his affinity for pulp horror.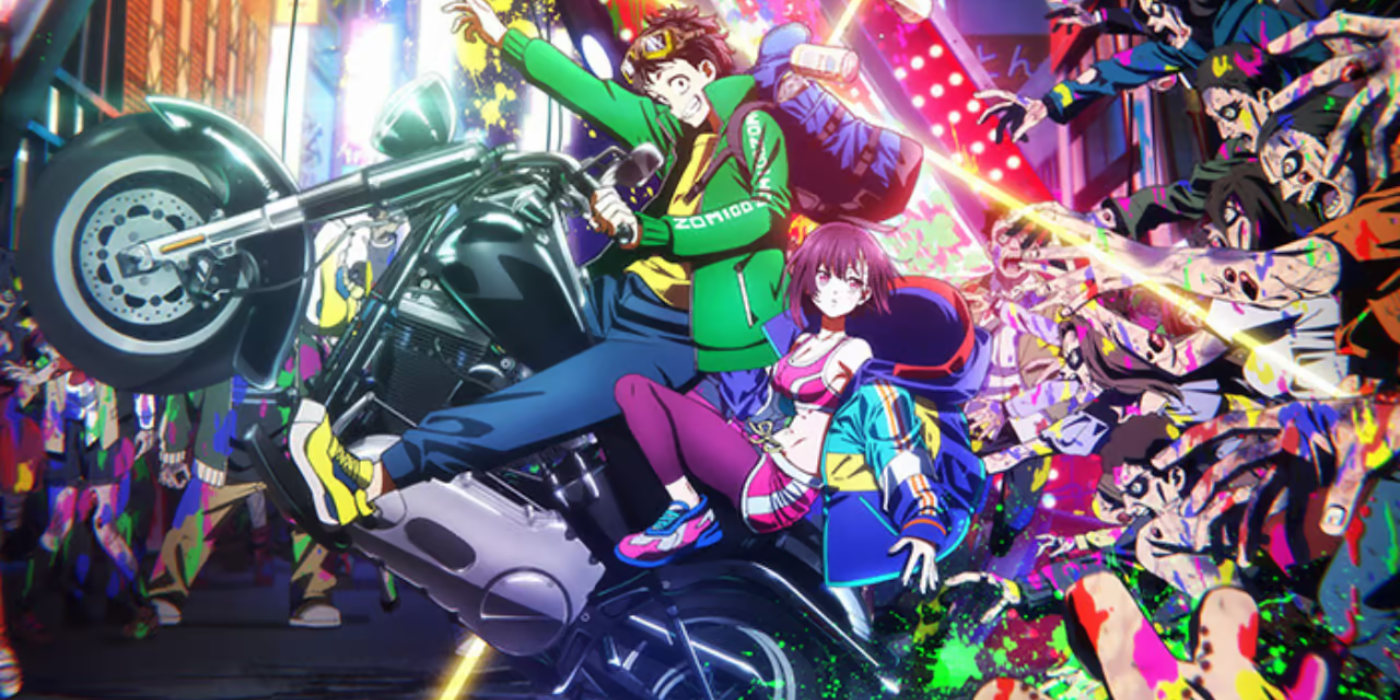 Takata didn't grow up wanting to be a manga artist. Instead, he followed his musical passions and played guitar in a band as a teenager. He quickly learned that he hated being on stage, though, and began to pursue a career in manga when he realized that it'd allow him to work more privately. The irony of his answer occurring on stage in a convention hall with a capacity of 2,000 people was not lost on him, the hosts, or the audience, and laughs reverberated through the space.
Takata was pragmatic when asked if he had any tips for aspiring mangaka. He answered via translator, "You need to know what themes you want to draw. You need to practice drawing, but the rest of it is up to fate." He made clear that zombies were a theme he had long wanted to draw, with some of his favorite works in the horror genre being Zombieland and Z Nation. He also noted that he appreciated the live-action film adaptation of the manga — particularly "its take on the shark" — and enjoyed what he's seen of the anime so far. He closed by encouraging Zom 100 fans to do whatever they want in life before turning into a zombie.
Following a cosplayer zombie walk competition, the previously released English dub trailer played, and English voice actors Zeno Robinson (Akira Tendo), Abby Trott (Shizuka), and Laura Post (Beatrix) took the stage. When asked, Robinson felt that his "Good morning!" line at the top of the trailer was his favorite scene to voice and that the optimism of that moment set the tone for both the character Akira and the series as a whole. Trott noted that she was enthralled with the production of the dub and even stayed beyond her first recording session to see her lines cut into the trailer. Post highlighted that lending her voice to this production inspired her to create her own bucket list, and is eager to scratch off every item.
As for the consolatory sneak preview, the broad appeal of Akira Tendo's burnout immediately stuck out. While he's initially eager to join an advertising company and fill a production role, he quickly discovers that his company is deeply exploitative. Between long hours of unpaid overtime, a workplace culture that treats exhaustion as a badge of honor, and few other career opportunities, he quickly burns out. The bright colors and atmosphere of the opening minutes transform into a series of monochrome shots and canted angles to further drive home his dejected outlook on life.
That is until the zombie apocalypse kicks off, and the anime explodes into a spectrum of colors — meant to stand in for a grindhouse amount of blood and gore — as Akria realizes that he doesn't have to go to work and can instead follow his passions. He creates a bucket list of 100 things he wants to do before he turns into a zombie and his zeal for life returns! This is where the sneak peek ends but with bucket list items like confessing to his crush, riding a motorcycle, and staying in drinking beer all day; it's easy to imagine that the anime will retain this relatable, manic energy into the rest of the first episode and beyond.